5 Employee ID Card Format in Word
Wearing an id card makes you look professional. Every organization today look for some professionally designed id cards for their employees. Designing an id card with suitable colors and designing takes time and requires expertise with designing tools. Not everyone is capable of designing these cards.
Looking for professionals in the market is a hectic job. Finalizing with someone to design a professional id badge for your company's employees needs effort and some money in the pocket.
Microsft Word is a very popular software for document processing and formatting. Almost everyone today has this software easily available at home or office. Using MS Word for designing make no sense when it comes to curve those edges to look professional. But, here we have a solution for this problem.
Our professionals have used different designing tools to design some professional-looking id cards for you. The best thing is that all these cards are provided for you in the easily editable software; Microsoft Word.
Now you can have these beautiful design id cards for your company in three steps:
DOWNLOAD
EDIT
PRINT
Choose one out of these 5 best design id card templates for your office/company.
This is a beautiful design id card with yellow color as prominent. You can put your company's name along with an employee's name & his designation. Write employee number, Paste a photograph of size 0.8″ x 1″ and choose the company's mission statement to put at the top. The card is all yours.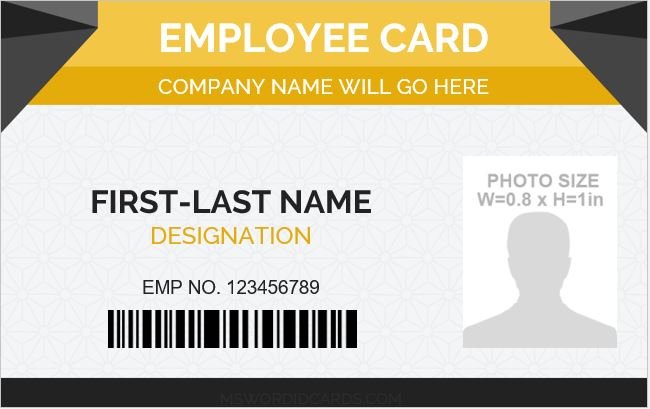 Dimension: 3.38″ x 2.13″
Size: 115 KB
---
This card has a blue color as a theme of the card. All necessary information related to the company and the employee can be put. All the text you see on the card is editable. The photograph required to paste on this card is of the size of 1.5″ x 2.127″. Don't forget to add the employee number and joining date.
Dimension: 3.38″ x 2.13″
Size: 152 KB
---
This is one of my favorite cards in the lot. It has red color as a theme and base of the card. The design is a masterpiece in this format. A photograph of width 1″ and height of 1.2″ is required to paste on the card. All other relevant information about the company and the employee can be given at the allocated place.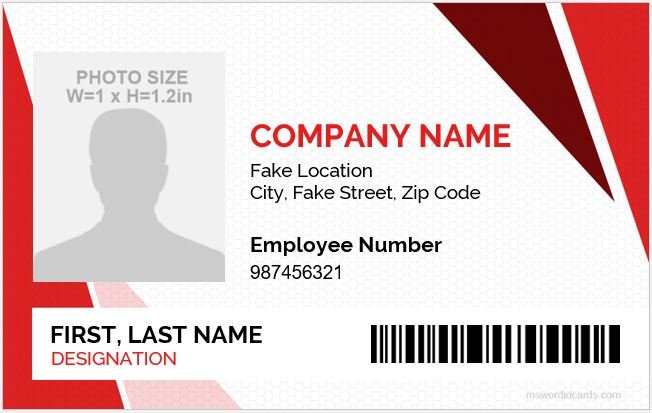 Dimension: 3.38″ x 2.13″
Size: 225 KB
---
A simple but comprehensive id card that carries all the necessary information. "Date of birth" is an additional field in this card which makes it different from the others. A barcode and a photograph of size 0.9″ x 1″ can be added easily.
Dimension: 3.38″ x 2.13″
Size: 105 KB
---
Simple yet eye-catching. This id card cannot be described better than this. Place the photograph and put all other necessary information. Don't forget to own the card by following the three steps: DOWNLOAD, CUSTOMIZE & PRINT.
Dimension: 3.38″ x 2.13″
Size: 569 KB
---
New Formats for 2021
#1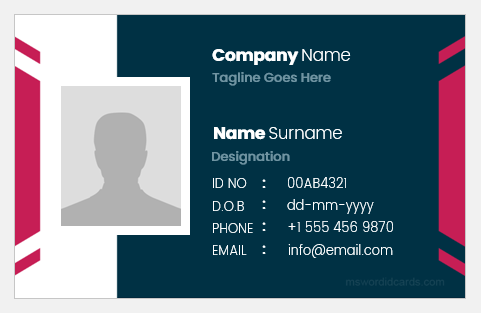 Dimension: 3.38″ x 2.13″
Size: 213 KB

---
#2
Dimension: 3.38″ x 2.13″
Size: 229 KB

---
#3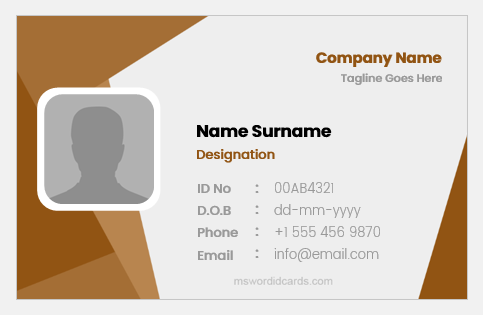 Dimension: 3.38″ x 2.13″
Size: 1269 KB

---
#4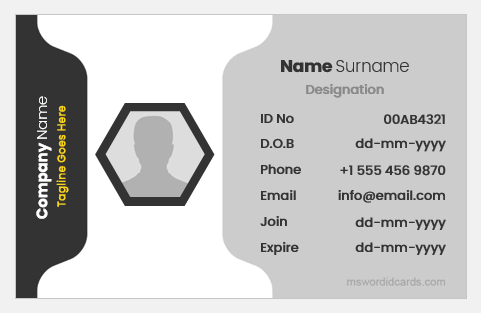 Dimension: 3.38″ x 2.13″
Size: 1369 KB

---
#5
Dimension: 3.38″ x 2.13″
Size: 1169 KB

---