Who is an Office Tea Boy?
An office tea boy or written together teaboy is an employee who works in an office as an office boy. His responsibilities can vary from office to office as most of the tea boys work on the disposition of what the office employer demands from them.
Many of the office tea boys also work to clean the office environment or deliver photocopies to other staff members. Most of the time, office tea boys do not have a calculated number of responsibilities as their responsibilities diffuse through the business demand.
Responsibilities of an Office Tea Boy:
An office tea boy is recruited primarily to fulfill the following duties and is held responsible for:
Giving tea/coffee/water to all the office staff
Giving lunch to all the office staff at the time of lunch
Maintenance of kitchen and utensils
Keeping kitchen, dishes, and other utensils clean
Bringing anything from the market if needed
Primarily, a tea boy is responsible for such duties but being at a McJob, he can be asked for additional work if required. McJob is a slang word that is used for low-paying and less-prestigious jobs. It is never encouraged and morally down to call any work a McJob or less prestigious as every task should be esteemed and regarded.
Does a Tea Boy Need an ID Card?
Of course yes! There is no point in thinking about whether a tea boy should be given an ID card or not. Many companies do not pay attention to the employment requirements of tea boys, office boys, gardeners or guards, etc., therefore, they do not deem it important to have their IDs.
Being esteemed and prestigious employees and an important part of the company, they definitely should be given their ID cards. Just like other employees, a tea boy should be given an employment card.
ID Card of a Tea Boy:
The ID card of a tea boy is not different than the ID cards of other employees. One must be careful in the selection of the design, color, and theme of ID cards. Some companies opt for different colors for different departments, job ranks, or according to grade or scale.
What to Add to a Tea Boy's ID Card:
Whatever color or design you select, you must add all the relevant data to the ID card of the tea boy. There is no such standardization of what to add and what not to add but a general perception is to add the following information to the ID card of a tea boy:
Logo of the company
Name of the company
Full name of the tea boy
Address of the company
Id number of the tea boy
Registration/employment number
Designation written as 'teaboy'
Contact information
Contact information of the office
Contact in case of emergency (ICE)
Blood group (optional)
Online Available Tea Boy ID Designs:
There are a number of designs with wonderful colors, themes, and sizes that can be used as a template or directly use for customization of data. One should always be careful with the tea boys' ID cards as the company's reputation and professionalism are shown equally by all the employees. You can also hire professional services or a great graphic designer to design an official and executive-looking card.
#1
#2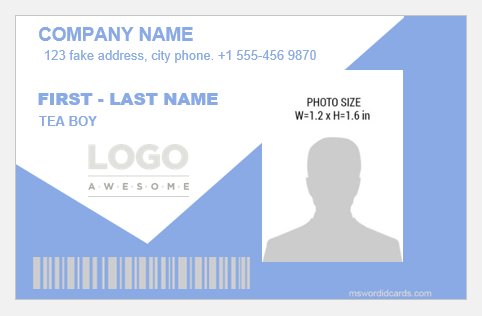 #3
#4
#5