Doctor ID Card Templates
It has become a common practice in every hospital to make the doctors working in it carry an ID card. In some hospitals, it has been strictly asked that each doctor who is interacting with the patients directly should carry an ID card with him. A patient feels very comfortable when he sees the doctor carrying an ID card.
The ID cards are used for identification. Anyone who is given the ID card from the official resources has to carry it so that he can be recognized easily.
A doctor is also given full access to every part of the hospital when he is able to prove his identity through an ID card.
Importance of ID Badges:
There are different policies and procedures that are applied in the medical field to make everything well organized and disciplined. Adding the ID card in the policies gives the more professional look to all such practices that are being implemented for the sake of better medical facilities.
Carrying the ID badge by the doctor as well as the other medical staff has become a de-facto standard. When you want to facilities the relationship between the doctor and the patient, doctor ID badges can be your best choice.
The badge immediately lets the patient know who is giving the medical treatment and what is the qualification and skill level of the doctor. The badge should possess a professional look.
Main elements of a doctor id badge:
It includes the name of the doctor, his qualification, his department, the latest photograph, DOB, and a lot more. Depending on the needs of your business, you can add more details to your badge.
However, it should be kept in mind that the purpose of this id card is only to provide the identification and overcrowding it with details is not a recommended approach.
The templates for doctor ID badge is present here. The templates are editable that allows anyone to use it to edit as required.
It provides the user with the design which looks more clean and professional. You should keep the card in the ID badge clip to avoid any loss.
Doctor ID Card Templates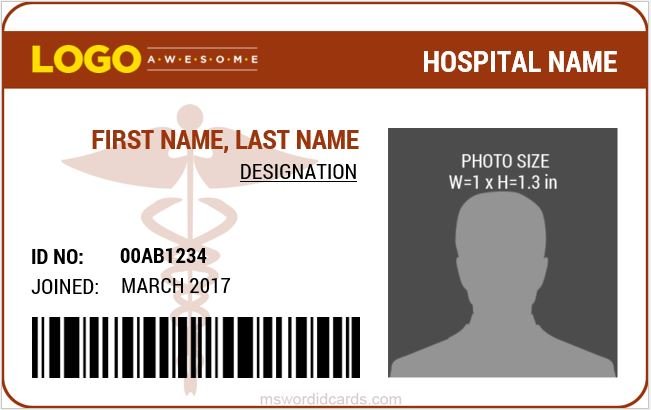 Dimension: 3.38″ x 2.13″ & 2.13″ x 3.38″
Military Doctor ID Badges
#1
Dimension: 3.38″ x 2.13″
Size: 3MB
#2
Dimension: 3.38″ x 2.13″
Size: 3MB
#3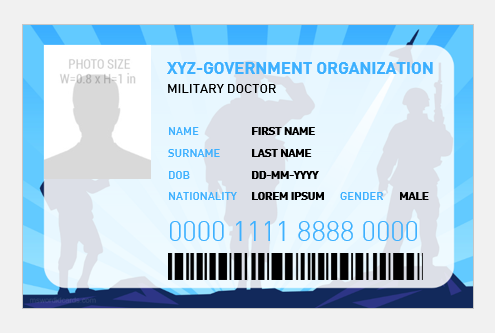 Dimension: 3.38″ x 2.13″
Size: 3MB
#4
Dimension: 3.38″ x 2.13″
Size: 3MB
#5
Dimension: 3.38″ x 2.13″
Size: 3MB