Gym Photo ID Badges
What is gym photo ID badge?
The ID badge which is issued solely to members of the gym for their authorization and identification is known as gym photo ID badge.
Gym photo ID badges are used to facilitate safe and easy identification of all the members of the gym. Due to an increased focus on health and fitness, use of the gym has become very popular among health-conscious people. Due to this, gym memberships are also increasing.
What are the advantages of gym photo ID badges?
These ID badges are important for the management of the gym that is responsible for creating a membership.
It is required by every organization including gyms to control high volume of data. In order to ensure to have controlled and safe access to the entire data of the gym, ID badge system is being used.
The gym members are not required to wear the membership card but they can attach them to their keys and can also use them on the go. This not only speeds up the check-in process but also enables them to access the services of the gym very conveniently. When a photo ID badge is created, the information about the cardholder is recorded in a data management system where the record can be easily accessed anytime through this badge.
It should be kept in mind that the equipment and classes of the gym can only be taken by the paying members who have become the authorized user of the gym equipment and have been given a photo ID badge. It is not possible for anyone to use gym equipment without proving his identity that becomes quite difficult if the ID photo badge is not used.
Moreover, there is a barcode reader at the entrance of the gym that reads a barcode given on the ID badge. So those people, who don't have this badge, can be considered as a fraudulent who is unable to make himself identified. The template for photo ID badge can be used in order to create an ID badge for your gym.
Here is a list for you
#1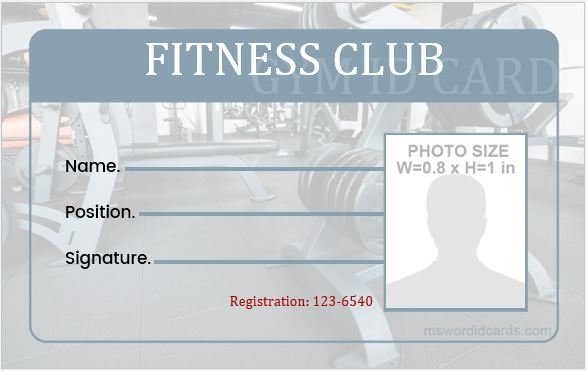 What do you do when you register a new member of your fitness club? Usually, a registration form is used to get all the necessary information about the member. The gym members are the frequent visitor of the place. Commonly people visit the fitness place 3-4 times a week. The idea of issuing an id card for these members is not a new one. If you are looking to print a photo id badge for your gym members then you must be happy that this id card is a perfect choice for you. The following gym id badge is a perfect representation of a fitness club which has a moderate number of registered members.
Dimension: 3.38″ x 2.13″
[For Word: (.docx) File: Personal Use Only] [Size: 343.0 KB]
---
#2
A glowing id badge for your club members. The images used in the background clearly depicts the nature of the id card. All the text is editable plus you can add a photograph of size 1″ x 1.2″ of your members.
Dimension: 3.38″ x 2.13″
[For Word: (.docx) File: Personal Use Only] [Size: 268.0 KB]
---
#3
I guess you will jump out of your chair once you see this beautiful design gym members id card. The card speaks its purpose. Download the card for free and start using it now.
Dimension: 3.38″ x 2.13″
[For Word: (.docx) File: Personal Use Only] [Size: 744.0 KB]
---
#4
The following gym membership card is designed for an established gym or fitness center. The card looks professional and mature. Download and customize the card to start using it now.
Dimension: 3.38″ x 2.13″
[For Word: (.docx) File: Personal Use Only] [Size: 418.0 KB]
---
#5
Probably the only card with a female fitness member image. The card can be used for both male and female members and employees of the gym. Download and start using this id badge for your gym employees and members by inputting relevant information.
Dimension: 3.38″ x 2.13″
[For Word: (.docx) File: Personal Use Only] [Size: 232.0 KB]
---