Medical Superintendent ID Cards
Medical superintendent ID cards are issued by the hospitals, clinics, nursing homes or any sort of health facility to their employees, who are serving the function of medical superintendents. Medical superintendents are the supervisors or managers of the facility's operations, that are being carried out on a daily basis. One can say that they are responsible for the smooth functioning of a healthcare facility, that includes patient care, patient satisfaction, doctors' and staffs' availability, etc.
There are many reasons behind the issuance of medical superintendent ID cards, including:
These ID cards associate the superintendents with a specific healthcare facility or hospital.
The basic information of the superintendent is stated on the ID card, which makes it easy for everyone to know his identity and the relevant information.
The ID cards can be used to identify a superintendent from other superintendents, staff, patients or people.
By looking at the ID card, an individual can know the responsible person for any issue in the operational activity. From supervising to hearing of the complaints to resolving them, a superintendent can be properly involved, if the correct and responsible person is known to everyone.
These ID cards can be used to clear the security check at the building entrance and in the prohibited areas inside the building, such as patient record rooms, laboratories, etc.
Sometimes, these ID cards are required for swiping and marking attendance as well as in and out time.
The fringe benefits and discounts bestowed on the superintendent by the hospital can be availed by using his/her ID card.
If the secured information, like a thumbprint, is stored on the ID card, the superintendent may not have to worry about fake ID cards or his identity being misused.
The information stated and stored on a medical superintendent ID card is dependent on the facility's preferences, the security level needed and the amount of technology that has been employed in the hospital. If the facility is using high-tech equipment, more incorporation of secured information would be there for scanning and security purposes. Therefore, the information can vary and include the basic information of name to the most secured information of thumbprint.
The general information stated and secured on a medical superintendent ID card contains the following:
Name of the superintendent.
Picture.
Gender.
Address or contact.
Employee ID.
Designation and department.
Details of the healthcare facility.
Security or scanning code.
Thumbprint.
The validity of the card.
It is important to ensure that all the information stated and stored on the ID cards is correct and accurate. This will not only limit the hurdles for the superintendent and the facility but also reduce the misuse of identity. For instance, if employee X's information is stated with the thumbprint of employee Y on the ID card, employee X may try to exploit employee Y.
To avoid any issues, the superintendent should keep his ID card with him, especially, when he is on the facility's premises.

Size 128 Kb | Download

---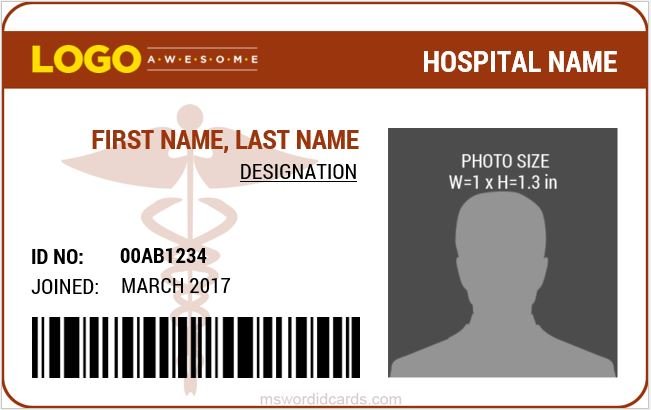 Size 108 Kb | Download

---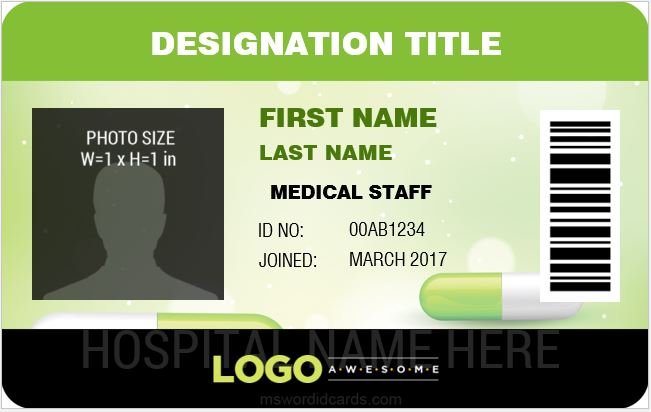 Size 278 Kb | Download

---

Size 466 Kb | Download

---