The nurse practitioner ID badges are the formal ID cards or badges, that are issued by the hospital to the nurse practitioners. They are given to identify a nurse practitioner from the other employees as well as to associate him/her with the particular hospital. The badges are duly signed and stamped by the issuing authority.
A nurse practitioner is a nurse, who has the required qualifications and hence can treat few diseases, even without the presence of a doctor. The job of nurse practitioners is critical, and hence, it is important that they are distinctly identifiable from the other nurses and employees. To fulfill this purpose of identification and others nurse practitioner ID badges are issued.
There are many advantages of issuing nurse practitioner ID badges for the hospital, patients, visitors, and the nurse practitioners themselves. A few of the main reasons why these badges are issued for the benefit of others are:
By glancing at the ID badge, one can know the title of the nurse practitioner and can reach him/her for help.
It becomes easy to identify the nurse practitioners from the simple nurses. The nurse practitioner may not need a doctor's supervision in a few cases, while a normal nurse is not allowed to practice the procedures, that a nurse practitioner is. This is why it is important for the patients and their relatives to know if they are handing the case over to safe hands.
In the case of an emergency, one can confirm, if the nurse has the right qualification to treat the patient by looking at the ID card.
The benefits of the ID badges for nurse practitioners include:
The nurse practitioner can use the badge to clear the security, use the parking slots, enter the rooms, where limited people are allowed, etc.
The ID card can be used to avail the fringe benefits, e.g., discounts at the hospital, discounts at hotels, etc.
The nurse practitioner's ID badge or card can contain varying information. The hospitals design a template, or edit a readily available template, and include the nurse's particulars on it.
As the technology has found its place in all professions and organizations, hospitals try to display only limited information on the ID card, while storing confidential information, which can be accessed by scanning the bar code.
Generally, the information on a nurse practitioner ID badge includes:
Date of issuance.
Date of expiry.
Details of the hospital.
Details of the nurse practitioner, including name, gender, qualification, registration status, signature, etc.
Picture of the nurse practitioner.
Title of the job.
Employee ID number.
Department name.
Reference number of the card.
Bar code, which can be scanned for the coded information.
Name and signature of the issuing authority.
Stamp of the hospital.
Although the chances of misuse and fake cards cannot be eliminated, the use of coded information has put limitations on the replication of the original cards.
Sample Templates
#1
Dimension: 3.38″ x 2.13″
Size: 3 MB
#2
Dimension: 3.38″ x 2.13″
Size: 3 MB
#3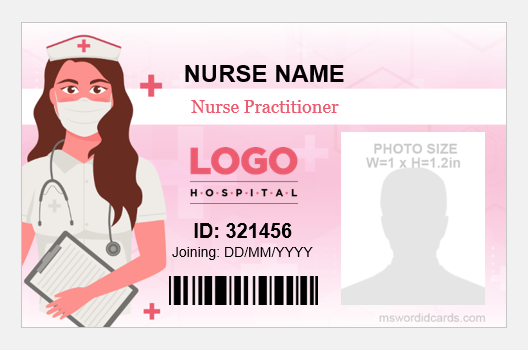 Dimension: 3.38″ x 2.13″
Size: 3 MB
#4
Dimension: 3.38″ x 2.13″
Size: 3 MB
#5
Dimension: 3.38″ x 2.13″
Size: 3 MB
More templates…