Most organizations provide ID badges to their employees. Such a badge helps in the quick verification of an employee's identity. It is a much cheaper alternative to other options such as biometric verification. Although the importance of the latter cannot be denied, not all organizations can afford it. In this situation, an identification badge plays an important role.
Among other employees, an office assistant is also provided with his own ID badge. This badge includes his picture, name, employee ID number, and name of the organization. This is the most basic design for this card.
Every organization can design and create its own customized office assistant ID cards. Templates are available for office assistant ID badges. These templates can be modified as per one's requirements in order to create a completely customized badge.
In fact, it is recommended to carry out specific editing while using online templates so that no two organizations have the same kind of ID badges for their respective employees. This can lead to serious security issues. Therefore, make sure you customize the design while using a badge template.
Firstly, the company's name and identifying logo should be placed at a prominent position on the card. You may then make other changes, such as the color and pattern of the background.
Include the necessary information according to what your company requires. For instance, other than the basic information about the office assistant, you may also add other particulars about him. These include the date of birth, gender, and contact information.
Additionally, the joining date may also be printed on the badge. Signatures of the issuing authority, as well as the cardholder, should also be included.
You may use both sides of the badge to print the required information. Make sure you use the right font and color for the provided text. It should be displayed prominently so that anyone can read the information at a single glance.
Moreover, it should also be ensured that the background color is not too bright and overwhelming. It should not overshadow the printed information.
Once the customization is complete, the badge can simply be printed for use.
#1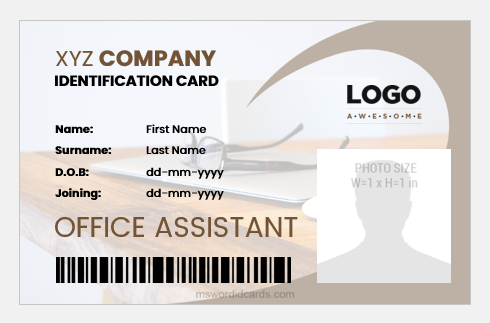 Dimension: 3.38″ x 2.13″
Size 2MB
#2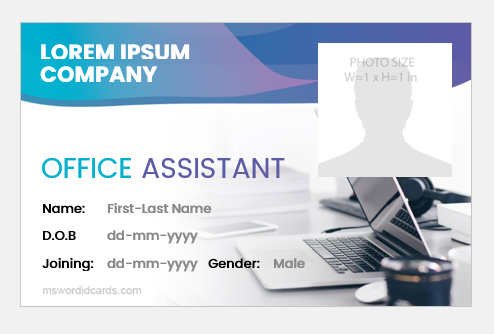 Dimension: 3.38″ x 2.13″
Size 2MB
#3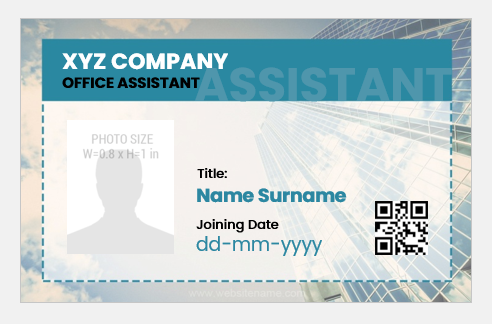 Dimension: 3.38″ x 2.13″
Size 2MB
#4
Dimension: 3.38″ x 2.13″
Size 2MB
#5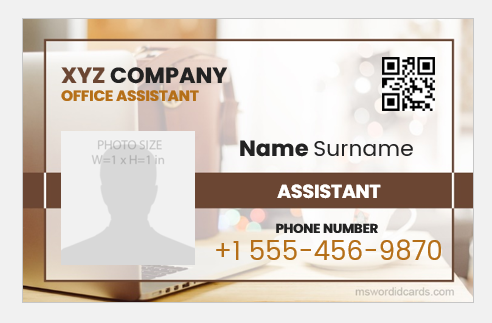 Dimension: 3.38″ x 2.13″
Size 2MB
You May Also Like