Service Dog ID Cards
Service dogs are animals that are trained to help individuals or people with disability in their work. Any breed of dog can be trained as a service dog. So basically, service dogs are there to help you in time of need. Now, you might be thinking that why does a service dog need an ID card. It is simple. Dogs and pets are not allowed everywhere you go. Some restaurants and public places ban animals.
However, if your dog has a service ID card, this means you depend on them. Hence, it makes it easy for you and the dog to get an entry. It could be one of the easiest ways to avoid getting into controversial situations. The service dog ID cards contain your dog's name, service dog license number and the handler name on the card. Sometimes, these cards also contain barcodes.
Not just that, complete contact details such as the address and the contact number of the handler is mentioned along with any emergency contact details. Wearing this ID card is not just helpful for the dog owner but also the dog itself. It is very beneficial for the owner to make sure to train the dog to carry the ID card around especially when leaving home.
Following are given 5 best id cards for service dogs. You can download, edit & print any card you like.
#1
A beautiful design id card with blue and red as the theme color. You can enter all the important information about the dog including dog name, owner name and contact information.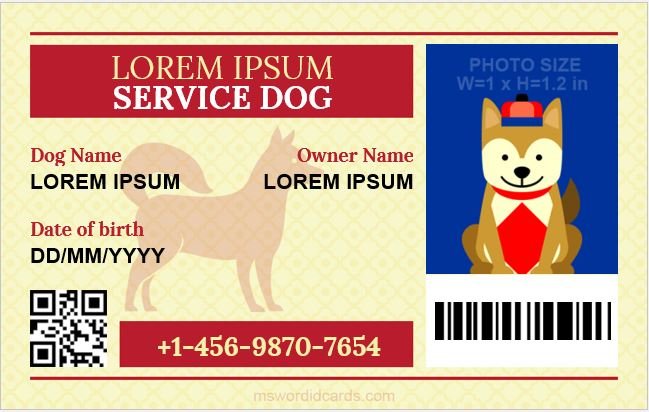 Dimension: 3.38″ x 2.13″
Size: 568 KB
---
#2
This professional design service dog id badge has something to grab everyone's attention. Now your dog needs nothing except this id badge to turn the faces of people around him. You must appreciate the scheme of color used in this id card as it looks simple as well as professional.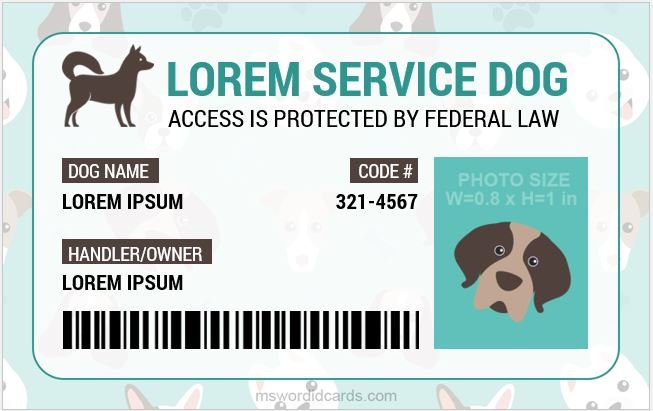 Dimension: 3.38″ x 2.13″
Size: 191 KB
---
#3
Blue…Wow!! always a beautiful combination to look professional. The id card is stunning. Isn't? You can add all the information along with a photograph of the dog. Space is provided to add any other extra detail about the dog.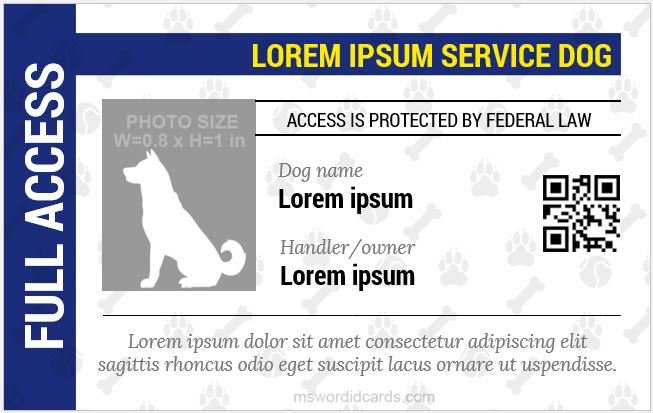 Dimension: 3.38″ x 2.13″
Size: 208 KB
View: New ID Cards*
---
#4
The id card has a design to focus the dog picture at the center. However, space is provided there to add other relevant information including the dog name and the handler name. A barcode place is added so that more information can be added to security point of view.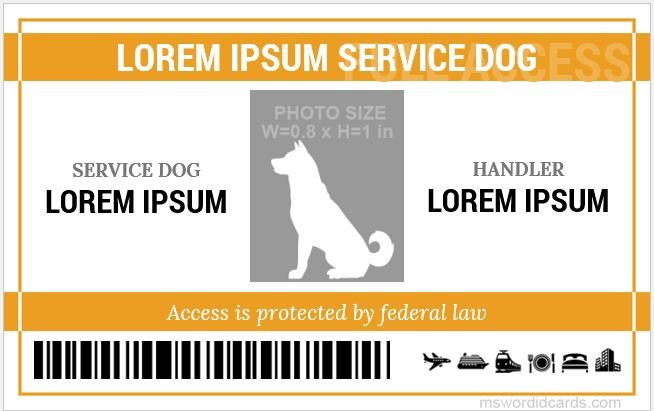 Dimension: 3.38″ x 2.13″
Size: 62 KB
View: New ID Cards*
---
#5
Last but not the least…A beautiful id card that will instantly grab your attention to choose this one for your business. The card has space for lots of information, barcode and the photograph.

Dimension: 3.38″ x 2.13″
Size: 237 KB
View: New ID Cards*