Service dogs are an important part of society. They are involved in carrying out activities that help disabled individuals. These dogs have been properly trained to do this. People need to be able to recognize who a service dog is.
What is a service dog ID card?
A service dog ID card is the identity card that a service dog wears. This fact is obvious, that dogs cannot talk and say that they are service dogs. People must be able to recognize them. This can be done with the help of an ID card.
Disabled people cannot stay without their service dogs. If the dog gets lost it is a problem for these individuals. To counter this headache, a service dog ID card can be made that the dog can wear at all times so that no problem occurs.
Importance of a service dog ID card:
If a service dog gets lost, it must be found because it is tough for disabled people to be without them. The ID card can make it easy for them to be recognized. If the disabled individual is blind and is lost with their service dog, the ID card can let people help them find their home, for instance. Animals like dogs can wander off and get lost at any time. If they have an ID card that they are wearing, it can be easy for people to help them find their homes.
Consider the following points before you create it
All information must be present on the service dog ID card. The below points can be considered when making this ID card:
Picture: You should include a picture of the concerned dog. Without a picture, it will not be helpful for people to know whose dog it is. The picture must be clear and easy for people to notice the dog.
Information that must be included: Have a heading for the ID card. It will be "Registered Service Dog" for instance. You need to include the dog's name. It is vital to state what breed the dog is. The identification number should be stated. You need to include the handlers' full names and addresses. This will help when the owner and dog are lost. Have the number of the owner as well. According to the law of the country, the information required must be stated, there may be some registration number or scan code for instance on the ID card. If the service dog is in training, write this on the ID card as well.
Format of the ID card: You need to make the ID card so that it is clear to read whatever is written on it by anyone. Do not include any information that is not needed. Choose a big, readable font. You can add color to the ID card so that it looks attractive. The size should be such that the dog can wear the ID card easily.
The following are given 5 best id cards for service dogs. You can download, edit & print any card you like.
#1
A beautiful design id card with blue and red as the theme color. You can enter all the important information about the dog including the dog's name, owner's name, and contact information.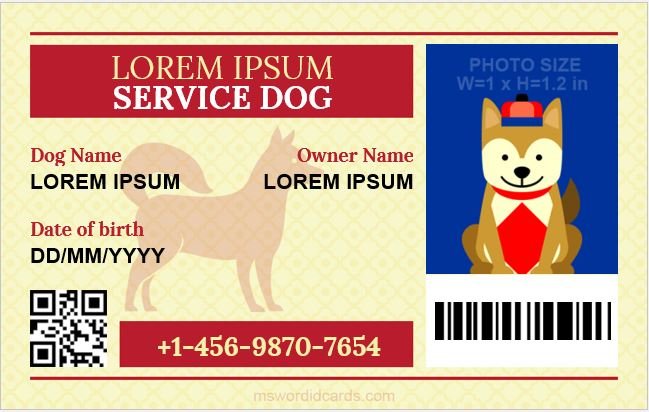 Dimension: 3.38″ x 2.13″
Size: 568 KB
[Personal use only]
#2
This professional design service dog id badge has something to grab everyone's attention. Now your dog needs nothing except this id badge to turn the faces of people around him. You must appreciate the scheme of color used in this id card as it looks simple as well as professional.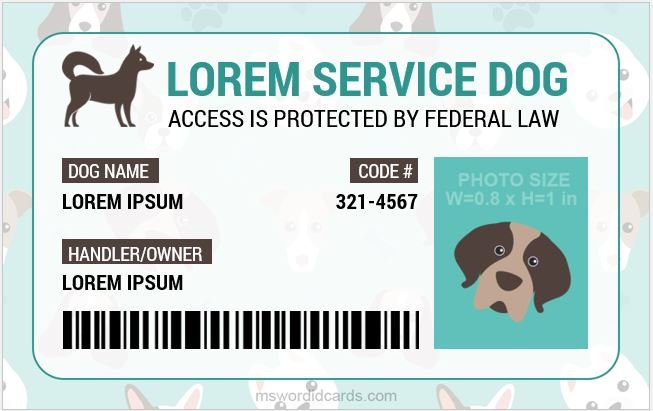 Dimension: 3.38″ x 2.13″
Size: 191 KB
[Personal use only]
#3
Blue…Wow!! always a beautiful combination to look professional. The id card is stunning. Isn't? You can add all the information along with a photograph of the dog. Space is provided to add any other extra detail about the dog.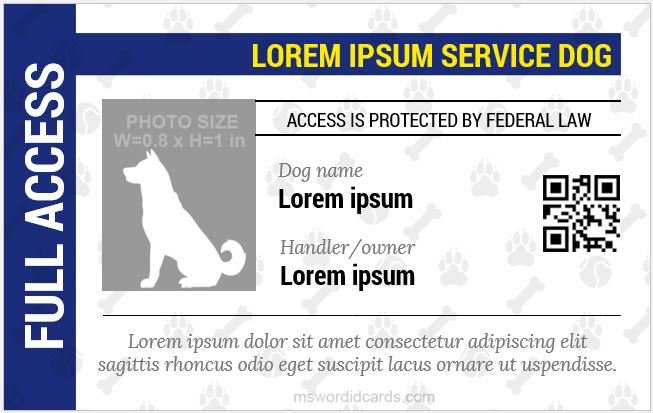 Dimension: 3.38″ x 2.13″
Size: 208 KB
[Personal use only]
#4
The id card has a design to focus on the dog picture at the center. However, space is provided there to add other relevant information including the dog's name and the handler's name. A barcode place is added so that more information can be added from a security point of view.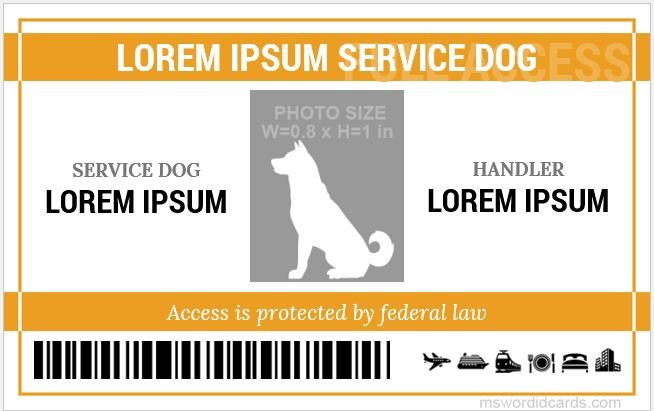 Dimension: 3.38″ x 2.13″
Size: 62 KB
[Personal use only]
#5
Last but not least. A beautiful id card that will instantly grab your attention to choose this one for your business. The card has space for lots of information, a barcode, and a photograph.
Dimension: 3.38″ x 2.13″
Size: 237 KB
[Personal use only]
#6
Our first design for 2023. A lot of things have been changed but the ID badge stays a bit formal. Try using this ID badge for your next service dog requirement.
Dimension: 3.38″ x 2.13″
Size: 237 KB
[Personal use only]
#7
A service dog ID badge is in demand and has been asked for by many. The demand is fulfilled in red color.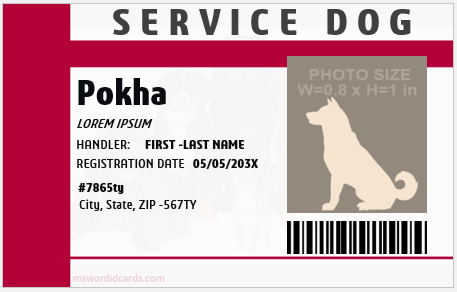 Dimension: 3.38″ x 2.13″
Size: 237 KB
[Personal use only]
#8
Dimension: 3.38″ x 2.13″
Size: 237 KB
[Personal use only]
#9
Dimension: 3.38″ x 2.13″
Size: 237 KB
[Personal use only]
More ID Cards