The world is becoming a global village. People are traveling every day for better jobs and provision. And due to such reasons, it has become important to identify as to which region you belong to. If labor is not having an ID card, it means it is hard for them to prove who they are and where do they belong.
The identification crisis can be suffered by a lot of people. However, people who immigrate for jobs are the most affected by this. Most of the countries issue labor ID cards to all the people migrating for jobs. This not only helps in the identification of people, but it can also help various departments. It can be very useful for the immigration authorities, they know how many people are working legally.
Labor ID cards will also help the tax authorities to identify the amount of tax that needs to be collected from labor. Having a labor ID card can open more ways for the labor themselves, as the ID card proves their legal right to work. They can find better opportunities and apply for jobs. It not only helps the employers, but it will also help the labor to brag themselves a fair pay rate.
The following are given 5 professional labor id card templates for MS Word that you can download, customize, and print with lots of ease.
#1
A professional design labor id card that can be used by any business. It contains many details but it has not affected the design in any way. Don't you think the designer has done a marvelous job?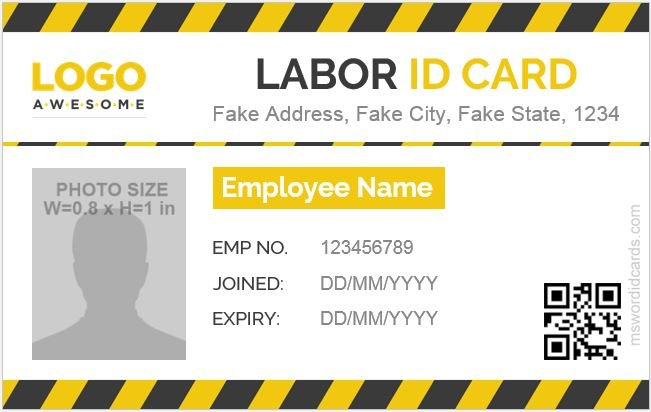 Dimension: 3.38″ x 2.13″
Size: 142 KB
---
#2
A professional-looking ID Card with nothing to point as a flaw. The card contains every bit of detail that a business may require for its employees. Do you think you want to add more information? think again. Otherwise, you have an option to edit the card. Is it enough?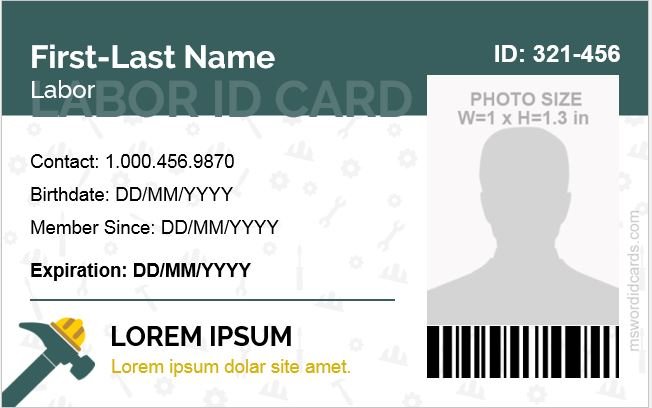 Dimension: 3.38″ x 2.13″
Size: 155 KB
---
#3
The most demanded ID Card with an official look. Are you liking that strip border? it is wonderful of course. Add as many details as possible and still, it looks amazing. Isn't?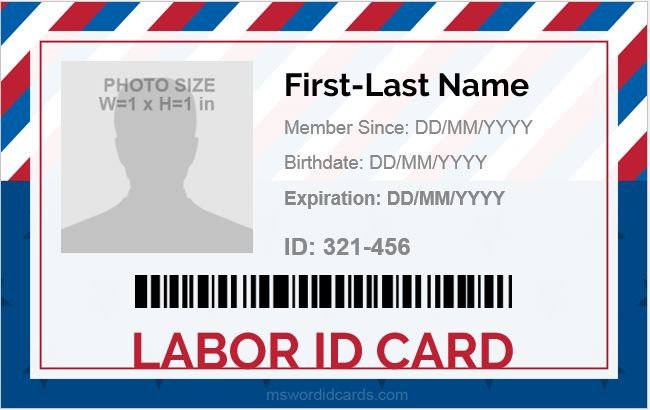 Dimension: 3.38″ x 2.13″
Size: 191 KB
---
#4
A cool and calm labor id card containing fewer details as compared to previous ones. Still, it looks professional and every laborer will feel confident for the recognition given by the card.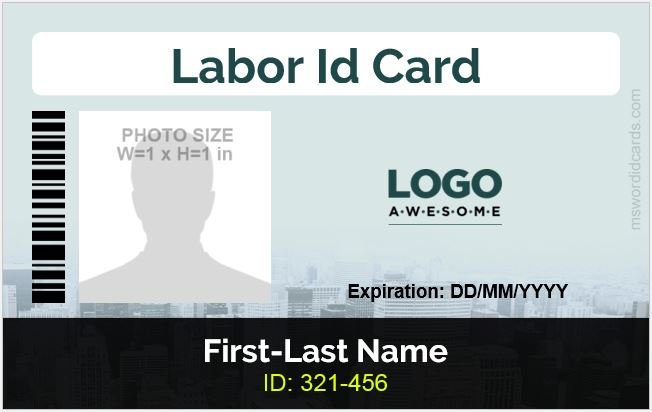 Dimension: 3.38″ x 2.13″
Size: 337 KB
---
#5
A professional id card with a simple look in black and white. The card contains information about the laborer, the company logo, and a photograph of size 1 inch by 1 inch. A small tool on the right expresses the nature of the card for its use. Don't forget you can customize all these cards with your personal information. We hope you must like these id cards if not please write to us and we will improve/update with better quality and standards.
Dimension: 3.38″ x 2.13″
Size: 443 KB