A babysitter ID badge plays an important role in verifying the identity of a babysitter. When you are at the office or out during the evening, you need a reliable person to look after your children. You may seek the help of a trusted family member, such as your own parents or a sibling. However, giving the responsibility of your children to an outsider is worrisome.
You need to perform a thorough background check and go through recommendations. On the other hand, you also need to ensure the safety of your kids while enrolling them at a day-care center. It all depends on the babysitter who is going to take care of your child.
A babysitter can be provided with an ID badge. This is particularly important for those who work at a day-care center or similar organizations. The badge helps in identifying the nanny. This badge also plays an important role when babysitters take the kids out on an excursion trip or simply to the park. Displaying a babysitter ID badge helps other people identify them. It is essential from the security point of view also.
Since it is a badge, it displays limited yet important information. It may be designed in different ways depending upon the requirements of an organization. However, there are a few necessary things which every id card must-have.
Firstly, it must display a picture of the owner. In this way, it can be ensured that the badge is not misused by an unauthorized individual. Secondly, it must clearly show the name of the badge holder. Other particulars may include age, address, and phone number. The latter is important in case the babysitter needs to be contacted for some reason. On the other hand, if the badge has been issued by a specific organization, then its name is also displayed clearly on the card.
It is quite easy to design this badge. If you want the process to be easier and quicker, there are templates available for this purpose. Simply fill in the required information, print the badge and start using it.
#1
Here is a useful template for creating a babysitter ID badge. The design is basic with a soft and attractive background. Customize it for your use.
Dimension: 3.38″ x 2.13″
---
#2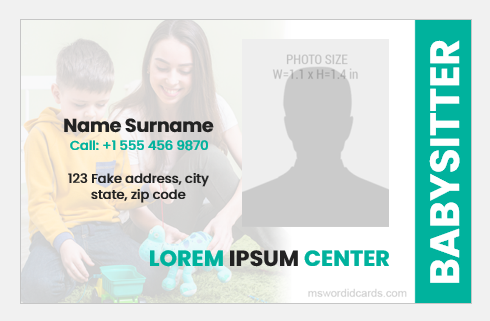 This is a customizable babysitter ID badge. The template offers plenty of room for the required information to be displayed prominently.
Dimension: 3.38″ x 2.13″
---
#3
Create your own babysitter ID badge using this template. It offers a decent design. Customize it to display your photo and add the necessary information.
Dimension: 3.38″ x 2.13″
---
#4
This template is perfect for day-care centers. Customize it to display the name of the organization, photo of the babysitter and other basic information about her.
Dimension: 3.38″ x 2.13″
---
#5
Here is a template to create an eye-catching babysitter ID badge with a soft blue frame. The basic information can be added to be displayed prominently. Space is also provided for a picture.
Dimension: 3.38″ x 2.13″
---