Custom Photo ID Badges
Every company gives importance to its security because it ensures the integrity of the company. Photo ID badges are given too much importance because when the entire staff of the company is seen wearing photo ID badges, they give the impression of company's concern on security and professionalism.
What is the purpose of photo ID badge?
The photo ID badge is used to identify the person holding it. The photo of the cardholder can be matched with the person holding it to see if s/he is an authenticated person. These cards are basically used to control the access of the employee to the private data of the company.
Custom ID cards are very easy to prepare no matter which type of business you are running. The size style, color scheme, and everything can be chosen by you to get a custom photo ID card. Everything about the card is required to be designed by you when you want to use a custom photo ID badge.
In order to prepare a custom ID card, you will be asked to define the number of cards you want to be printed, the thickness of the card, design of the card, text to be added, photo, size of the photo and a lot more.
Custom photo ID card can be prepared online with the help of a template. This template is very useful for those people who want to save their time and energies. Moreover, people with no knowledge of cards can also get a photo ID badge through the use of this template.
Benefits of custom photo ID card:
These types of badges are very easy to prepare.
The user can get the card of his choice since every aspect of the card is decided by the user.
The face of the person is matched instantly through photo ID badges due to which the chances of any fraud are reduced. Many companies ensure that certain type of information is to be accessed by only some specific employees. This thing is ensured with the help of photo ID badge.
#1
A custom id card has a beautiful design and layout which can be used for all the businesses. It has space to add all the details about an employee that you may want.
Dimension: 3.38″ x 2.13″
Size: 170 KB
---
#2
The card has a unique layout. Isn't it? You can add any information about the employee working in your company. Some information can be seen on the card while enough space is there to add few more lines. Don't hesitate to add or remove any details.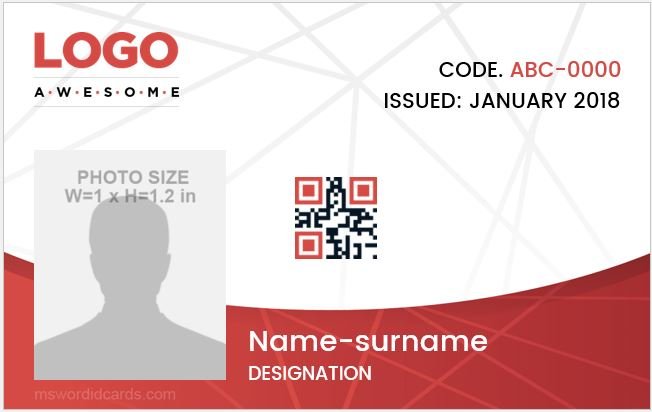 Dimension: 3.38″ x 2.13″
Size: 213 KB
---
#3
This is one of beautiful photo id card that you will not see across the entire web. And you are liking it too we know. Isn't it? Adding a photograph to this card will make it even beautiful to wear.
Dimension: 3.38″ x 2.13″
Size: 65 KB
---
#4
The card is different in its layout and color scheme. Beautiful combination of these both will make its choice for many out there. Are you the one also?
Dimension: 3.38″ x 2.13″
Size: 170 KB
---
#5
An employee identification card with nothing important to miss. Input all the details or if you think you need more simply go to INSERT –>Insert Text Box and you can add a new text box to add more information.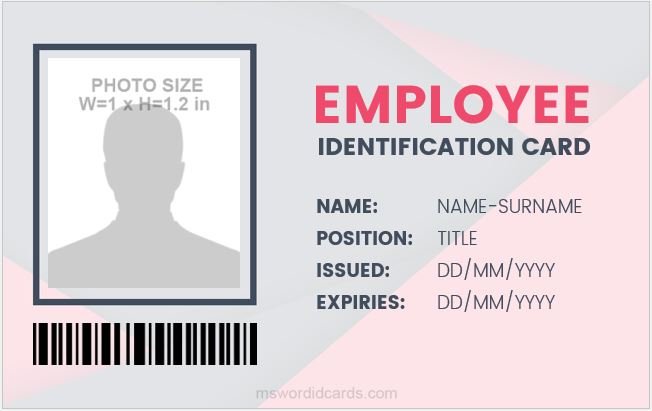 Dimension: 3.38″ x 2.13″
Size: 139 KB