What is departmental store ID badge?
The identification card used by the staff of the departmental store to give the vision of the security in the store is known as a departmental store ID badge.
Why it is important to use departmental store ID badges?
The ID badges in any departmental store are worn by the employees of that store. In any departmental store, the security of every person is very important. When the staff working in the departmental store is kept safe, the security of the customers is ensured automatically. Moreover, these cards are also essential to be used in the store in order to ascertain that the inventory of the store is also in safe hands.
What is basic purpose of using the departmental store ID badges?
Although there are many reasons for which these ID badges are used consistently in almost every store, the main purpose is to express that the person wearing the ID badge belongs to that store. There are a name and logo of the store on the ID badge that clearly indicates that the customers are buying the items from the legitimate person.
Who uses the departmental store ID badge?
In order to ensure the safety of the store items, there are different employees hired to walk throughout the departmental store and to keep an eye on every customer as the goods in the stores nowadays are displayed on the shelves openly.
There are also many other jobs which are assigned to the staff such as timekeeping, monitoring the employees working, managing and handling the customers and their purchases and a lot more. Every person who is assigned the duty is required to wear the ID badge that has been specifically designed for the staff of the departmental store.
Departmental store Id badges template:
You can find a huge collection of departmental store ID badges on this website which are used for security as well as for identification purpose. These templates provide the readymade ID badge that makes it easier for the user to add his details to it and then print it.
#1
Dimension: 3.38″ x 2.13″
[For Word: (.docx) File: Personal Use Only] [Size: 689.0 KB]
---
#2
Dimension: 3.38″ x 2.13″
[For Word: (.docx) File: Personal Use Only] [Size: 267.0 KB]
---
#3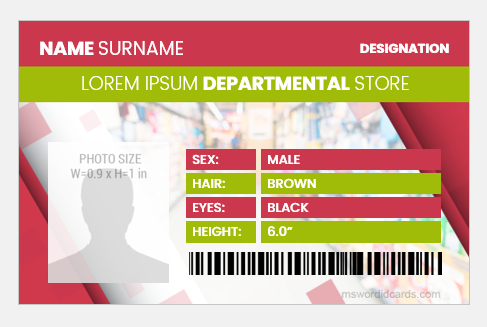 Dimension: 3.38″ x 2.13″
[For Word: (.docx) File: Personal Use Only] [Size: 789.0 KB]
---
#4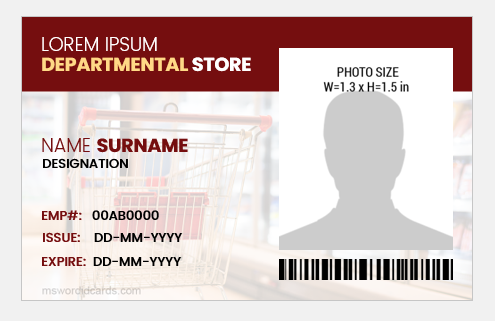 Dimension: 3.38″ x 2.13″
[For Word: (.docx) File: Personal Use Only] [Size: 781.0 KB]
---
#5
Dimension: 3.38″ x 2.13″
[For Word: (.docx) File: Personal Use Only] [Size: 840.0 KB]
---