ID cards are very important for every individual. However, for some departments and services, it is very crucial to have ID cards. ID cards make it easy to identify the real self of a service provider.
It is very important for a firefighter to have an ID card. Firefighters are very vigilant and fast service providers. They need to be on the fire spot as soon as possible.
In such uncertain situations, the identity of the service provider becomes highly important. While driving, they might meet traffic or any other emergency situation. Having ID cards makes it easy for them to provide their identity and efficiently perform their duties.
The fire department is not a typical traditional department. The firefighters not only need ID cards to prove their identities to the public. They need ID cards to work and operate in the fire stations as well.
ID cards are worn by firefighters always especially when they are on the field. It is very important for firefighters to wear their badges where they can be visible easily. ID cards not only help in all the above-mentioned situations, but they also help to differentiate between any visitors and the open public during fighting an emergency.
The following are best-designed fire department employees id cards provided by our professionals. If you are looking for professional design free id badge templates for your employees then you are at the right place to choose the best id cards. Pick, download, and print the card you like.
#1
ID Card design with a place to put the company name, employee name, employee ID, and the logo. The combination of colors depicts the nature of the card being used in the fire department.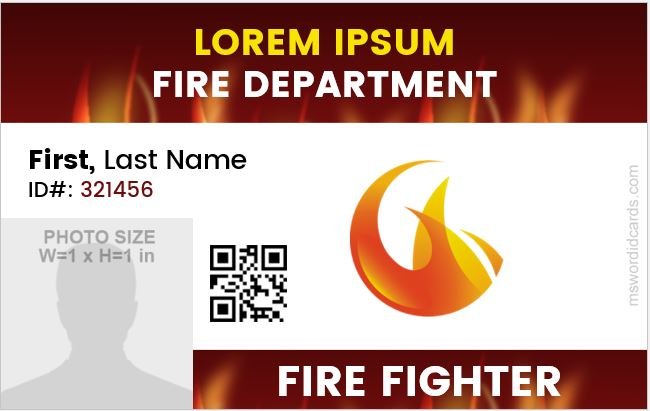 Dimension: 3.38″ x 2.13″
Size: 210 KB
#2
The card with fewer details about the employee and the company. Still, it holds the photograph of the employee and the barcode for security-related information.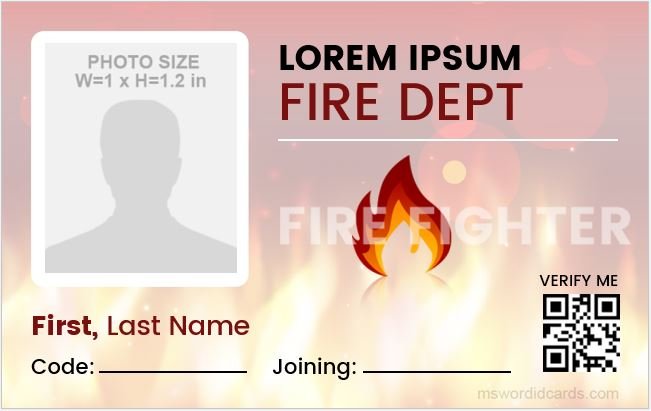 Dimension: 3.38″ x 2.13″
Size: 190 KB
#3
An id card with a photograph to place in the center. Other details about the employee and the company can be edited with your personal information.
Dimension: 3.38″ x 2.13″
Size: 300 KB
#4
A professional design fire department employee id card with complete information to hold. This card is editable like all other cards on this website but we recommend using this card with its original colors. Add photograph of size 1.2″ x 1.5″ on the right.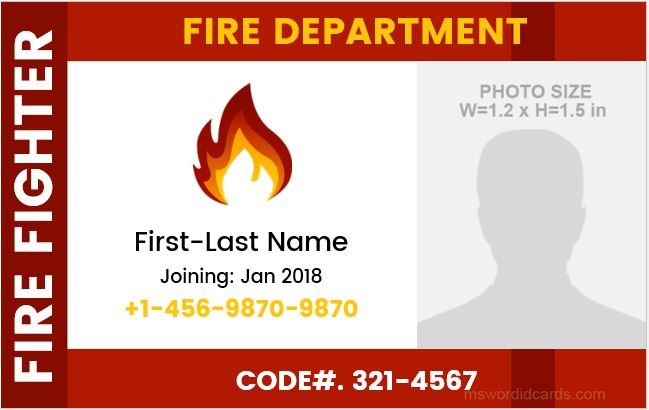 Dimension: 3.38″ x 2.13″
Size: 290 KB
#5
A very different scheme of color on the list. This scheme has been adopted on the demand of our thousands of customers. I hope you like this card in all and would like to print it for your employees too.
Dimension: 3.38″ x 2.13″
Size: 260 KB