Free ID Badge Templates
ID cards are used everywhere. In different kind of facilities, the use of ID cards is essential. There are different purposes served by ID cards. The purpose you want them to use for totally depends on the industry where they are needed. The basic purpose of using ID cards is to identify the cardholder.
Mainly, ID cards are used to increase the security of the company where they are being used. Many organizations use these cards to add the element of professionalism in the environment.
An ID card includes the name, date of birth and some other relevant details along with the photo of the cardholder. An ID card is used as a proof of identification. If the ID card is not available, the license of the person can be used to identify him.
Benefits of ID Cards:
The information given on the ID card is stored in a database. In case of any problem, the details of that person are fetched from the database. Providing security to the organization as well as individuals is not the only purpose of these cards.
Many companies also used these cards to ensure that the person having this card is being given access to the facilities provided by that organization.
There is some type of sensitive information or some restriction areas in the company that is only allowed to be accessed by the employees of the organization. Use of ID cards makes the cardholder a legitimate person for that organization and he is then able to get access.
Free ID Card Templates:
Use of free ID cards templates enables the user to get a professional looking ID card without wasting time and money. With the help of these templates, one can easily get an effectively designed ID badge.
These templates are very easy to use. All you have to do is input all your information in the template and it will prepare a professional looking ID card for you. The template is free to use and can be downloaded for offline use.
#1
Designing of an id badge was not that easy. Thanks to technology and the latest designing tools that have made it possible to have professional design work for FREE. The following id badge is looking awesome in design and its presentation.
Dimension: 3.38″ x 2.13″
[For Word: (.docx) File: Personal Use Only] [Size: 126.0 KB]
---
#2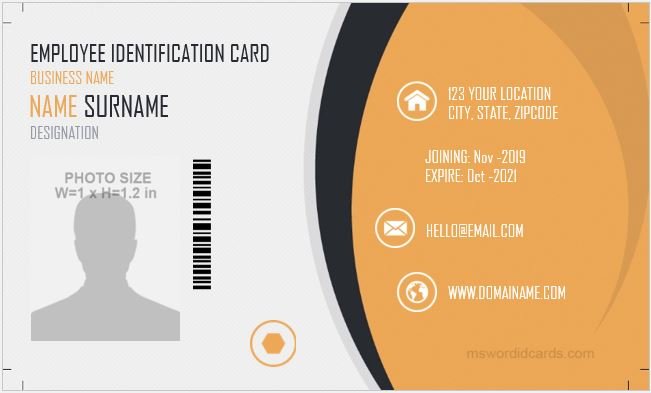 This latest design is making its place in the market. Soon you will see this id badge being worn by every employee from small to large scale offices. The style is amazing. The use of the font is excellent and the badge is full of information. The marginal space at all around gives the flexibility to trim the size of the card as per requirement.
Dimension: 3.38″ x 2.13″
[For Word: (.docx) File: Personal Use Only] [Size: 238.0 KB]
---
#3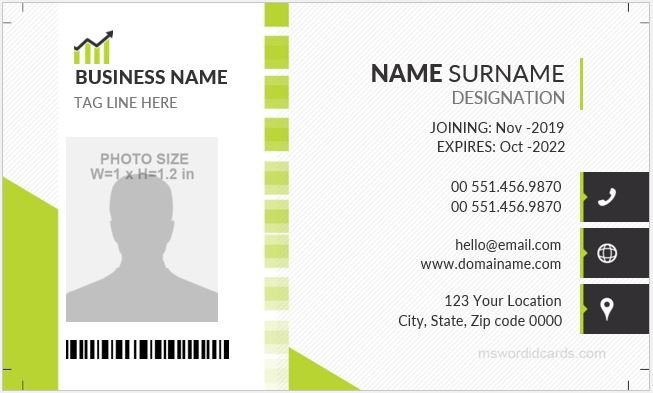 I bet you must not have seen this design and the id badge ever before. Did you? It is an excellent design id badge template which is not only unique in its color scheme but also in professionalism. The card holds as much information as possible. Sooner or later the id badge is going to be the king in the market.
Dimension: 3.38″ x 2.13″
[For Word: (.docx) File: Personal Use Only] [Size: 215.0 KB]
---
#4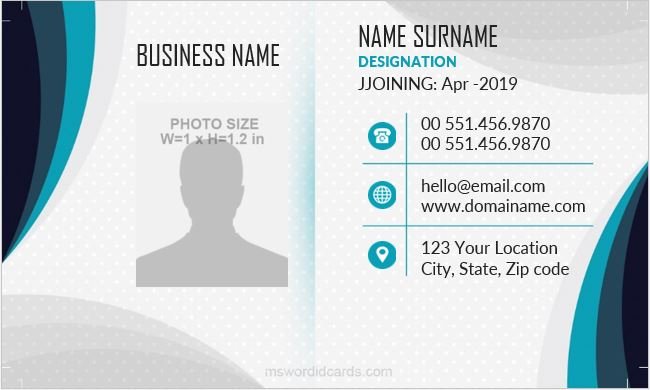 We have made it possible for every business owner to get the id badges for their employees without paying any penny. Do you think we are true in this claim? we do. Do invest now in a quality printer rather spending on the designing of id badges. With the quality printer, you can print any of the id badge given on this website free of cost.
Dimension: 3.38″ x 2.13″
[For Word: (.docx) File: Personal Use Only] [Size: 301.0 KB]
---
#5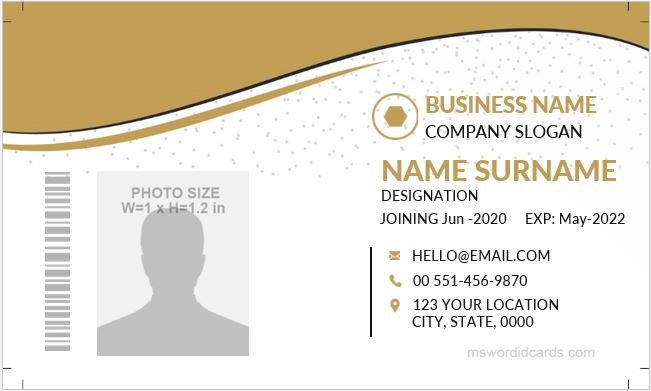 We have decided to give people with quality id badge templates and the following id badge is a perfect example of this. An excellent design id badge with nothing to alter. Keep the things in its place and input your personal information. It's done.
Dimension: 3.38″ x 2.13″
[For Word: (.docx) File: Personal Use Only] [Size: 148.0 KB]
---
#6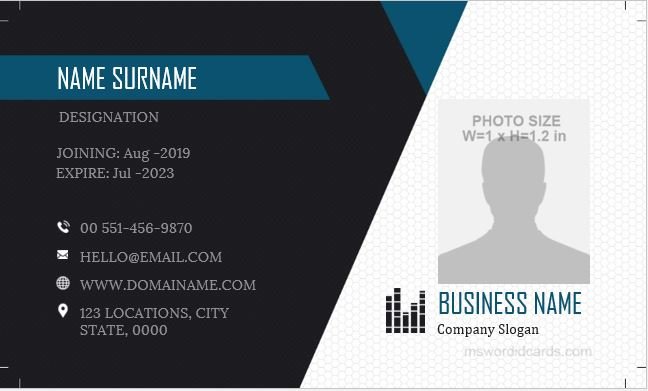 If designing of an id badge has a maximum of 10 to rank I must give this card 10. Do you think the same? you must. This is no doubt a fantastic piece of designing and we will be proud to see your employees wearing this id badge.
Dimension: 3.38″ x 2.13″
[For Word: (.docx) File: Personal Use Only] [Size: 213.0 KB]
---
#7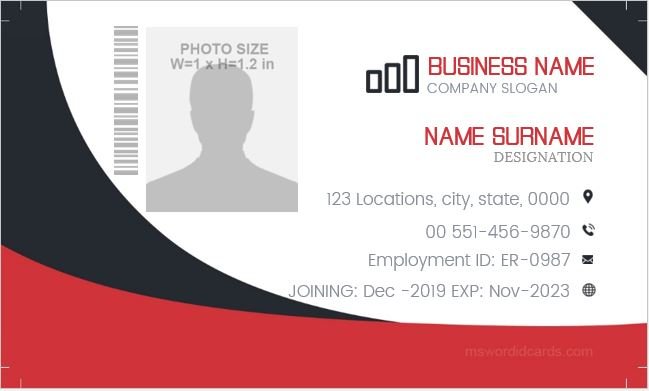 The id badge of 2020. YES, this is the design of the future. As the importance of wearing an ID-badge is being increased by the time so designers have focused more on the layout so that it contains loads of information also.
Dimension: 3.38″ x 2.13″
[For Word: (.docx) File: Personal Use Only] [Size: 117.0 KB]
---