Identity cards, or what we call ID cards, are increasingly becoming popular in organizations and public buildings in the face of security concerns. These cards help identify a member of the organization, so when they enter their office buildings or premises, they can show their authorization to enter the premises. In fact, in many places, even a well-known employee or manager may not be allowed access without an ID card. Thus, ID cards are a critical form of identification everywhere.
ID cards come in various materials and sizes. Some are simple ID cards to be worn around the neck or attached to the belt, while in some high-risk cases, smart ID cards are issued that may be swiped electronically at the entrance to provide access.
An ID card doesn't always have to be fancy or smart, but it must have some essential information that helps identify the carrier. Moreover, an ID card must be such that only the holder can use it and not someone else. Thus, here is some basic ID card information:
Name of the holder
Picture of the holder
Identity numbers such as employee ID or student ID
Name and logo of the organization
Validity (date of issue and date of expiry): optional
You may include any other important information on the card. These cards can easily be designed in whatever shape or format you prefer. The most common ID card formats are rectangular. The card may be designed horizontally or vertically, depending on your choice.
If you don't want to spend time designing ID cards, you may use already-designed ID cards. Simply download them for free and use them as per your requirements. Here on our website, you will find thousands of blank ID cards and photo ID badges. Browse through thousands of designs, download a design you like, and customize it by adding your relevant information.
Horizontal Card: 2.0 MB
Size: Dimensions: 3.38″ x 2.13″
Vertical Card: 2.0 MB
Size: Dimensions: 2.13″ x 3.38″
Horizontal Card: 2.0 MB
Size: Dimensions: 3.38″ x 2.13″
Vertical Card: 2.0 MB
Size: Dimensions: 2.13″ x 3.38″
Horizontal Card: 2.0 MB
Size: Dimensions: 3.38″ x 2.13″
Vertical Card: 2.0 MB
Size: Dimensions: 2.13″ x 3.38″
Horizontal Card: 2.0 MB
Size: Dimensions: 3.38″ x 2.13″
Vertical Card: 2.0 MB
Size: Dimensions: 2.13″ x 3.38″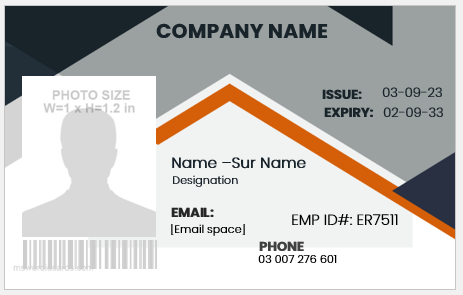 Horizontal Card: 2.0 MB
Size: Dimensions: 3.38″ x 2.13″
Vertical Card: 2.0 MB
Size: Dimensions: 2.13″ x 3.38″
Horizontal Design ID Badges
Vertical Design ID Cards/Badges