An identity card/badge defines the issuing body, bearing an individual's identification data. Every organization issues id card/badges to their staff for proof of one's identity, comprising of all one's personal credentials, making it possible to simplify employee identification hence enhancing a company's integrity and security to avoid criminal activities.
A hotel comes under the hospitality industry and promoting a positive yet the professional image of the hotel is always necessary in a competitive business world. A hotel staff id card typically includes an
employee's name
photo
joining date
job title
department/hotel nam
Why hotel staff may need to have an id card/badge?
An ID badge can help in the following way
Customers can easily recognize correct hotel and resort staff which makes them trouble free of exploring on their own for guidance, hence saves their time.
Management team can determine all visitors and customers who enter the premises of the hotel.
Keeping track of every entry is crucial to ensure high security measures.
Distinguishing staff members of hotel who work in various departments becomes easy.
Hotel Visitors can easily swipe cards as access cards to their room. With latest advancements in technology, one can control elevator going to their room. Some are well privileged and may offer customers to swipe cards for the facilities at the hotel. It keeps the customers happy as well as well connected to resort's central management system. Smooth experience of visitors ensures customer satisfaction.
Possessing a badge can help in identifying who is who at a glance in an emergency.
Even some id cards do come with a QR code option to mark attendance through code reader mechanism. Entry and exit of workers or staff members of a certain hotel can be sensed by the system through unique code present on the badge. Maintaining attendance record becomes handy.
#1
The ID card has a vector design in a vibrant color combination of steel blue, canary, and yellow color. The name of the hotel is placed on the top in bold font. Underneath the title is staff identification. The left fraction holds a fine-sized photo. The right fraction holds the complete name, employee number, and emergency number. The bar code is placed at the base. The newly established hotels can choose this staff ID card.
Dimension: 3.38″ x 2.13″
[For Word: (.docx) File: Personal Use Only] [Size: 342.0 KB]
---
#2
The card is designed with an elegant color theme of yellow and white in a flat style. The left division contains the photo and joining date. The right division contains the full name, logo, and hotel name. An elegant picture of a hotel building, and a working man is beautifying the background. The hotels exclusively serving the business stays can choose this staff ID card.
Dimension: 3.38″ x 2.13″
[For Word: (.docx) File: Personal Use Only] [Size: 318.0 KB]
---
#3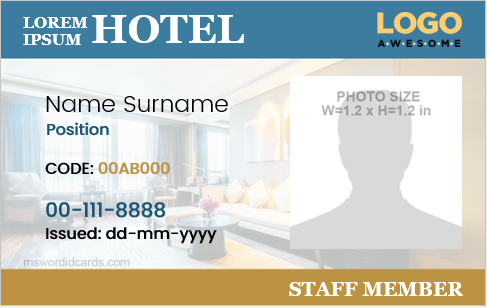 The ID card is very decent and eye-catching. The color theme of dark cadet blue, shortbread, and mustard is used. A picture of a hotel room is placed in the background. The pinnacle holds the hotel name and logo. Underneath, the complete name, code, contact number, issued date, and photo. The ID card goes perfectly for all the kind of hotels.
Dimension: 3.38″ x 2.13″
[For Word: (.docx) File: Personal Use Only] [Size: 732.0 KB]
---
#4
The ID card has a dynamic color blend of red, white and gold color. A vibrant picture of the beach along with a beach set is placed at the background. The title is placed vertically at the left. Then the logo, hotel name, complete name, code, and issue date are placed along with a fine-sized picture. The ID card could be exclusively chosen for the hotels located the picnic places.
Dimension: 3.38″ x 2.13″
[For Word: (.docx) File: Personal Use Only] [Size: 552.0 KB]
---
#5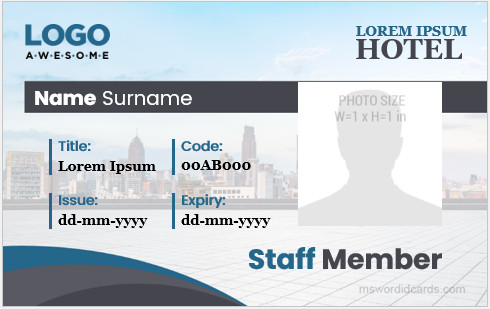 The ID card is very outstanding in a wavy style. The color combination is sky blue, white, and black. A vibrant picture of hotel buildings is placed at the background. The apex holds the logo and hotel name. The hub holds the complete name, title, code, photo, and issue and expiry date. The ID card could be chosen by any hotel for their staff.
Dimension: 3.38″ x 2.13″
[For Word: (.docx) File: Personal Use Only] [Size: 585.0 KB]
---
How is it convenient to design the badge?
We are in a modern era, where use of open source software's has saved us from many tedious tasks of designing any document from scratch. Templates on internet are readily available and can also be customized. You can have any readymade sample with all the options available; ready to be tailored to your need.
Graphic Designing and Visualizations tools are very helpful in this perspective. Some of them are listed below:
Corel Draw: It is used particularly for vector graphics created by Corel Corporation.
Pixlr: All editing needs are fulfilled by this popular and advanced online image editor. Having full control over layers and effects on images is the main requirement of a designer and this is the right choice for perfect editing.
Adobe InDesign: If you want to produce a layout for print, digital and even online, Adobe InDesign is your cup of tea.
Microsoft Word: The final design can be incorporated into MS Word for easy editing and printing of the card.
Conclusion:
The secret behind a successful running business lies in its efforts to make things simple and manageable for people so that win-win situation always persists in providing benefit to both customer and owner. Identification cards for the hotel staff play an essential role in regulation and harmony of the resort hence keeping the impression of its trademark pleasant in community.