Identity card use in 2022 will rise as the identification of an individual is gaining importance for security reasons. Every organization wants to make sure that its employees are wearing those id badges for a number of reasons. It includes
Recognizing their staff to the visiting customers
To use the card for online attendance system
To immediately recall the employee's name with his designation and employment status
To give a professional look to the employee and improves the organization standard in terms of the trust
To strengthen the overall security system
Every organization deals with a different business. When it comes to deciding the layout and format of the identity card for the employees it takes time and energy. The layout and designing of the ID badge require expertise in designing tools or software.
You will be glad to know that we present here the 5 best id card templates for 2022 that do not require any expertise or professional techniques to design a beautiful-looking id card for your employees. All you need to have a Microsoft Word software and a good internet connection speed.
Choose any of the ID card template that you like from the following list and download. Open the file and make suitable text editing to personalize the card. It's all yours! Cheers!
#1
Beautiful card with strip layout and unique colors. Although you cannot make changes to the layout you can edit all the text as per your employee's details. Photographs and security code information can be added easily.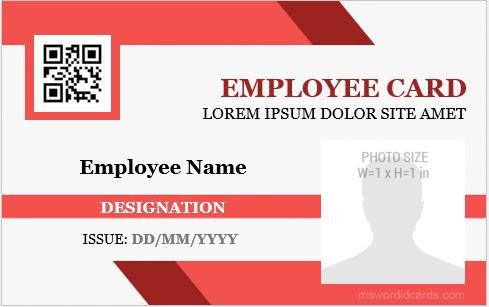 Dimension: 3.38″ x 2.13″
Size: 181 KB
[Personal Use Only]
#2
Looking at blue gives you calm feelings. Isn't that the reason that most of the web presents their stuff in blue? The same is the case with popular social media websites. Let your employees wear this card to give a calm & professional look to your work. Stay cool and look professional, we can add this tagline to this card to present. Isn't?. Add all the necessary details required for the employee and print.
Dimension: 3.38″ x 2.13″
Size: 156 KB
[Personal Use Only]
#3
It is rare to see this combination of colors to make it look professional. Isn't this true on this card? The card is a perfect choice for small business owners to pick and print for their employees. It carries all the necessary information that is needed for the purpose.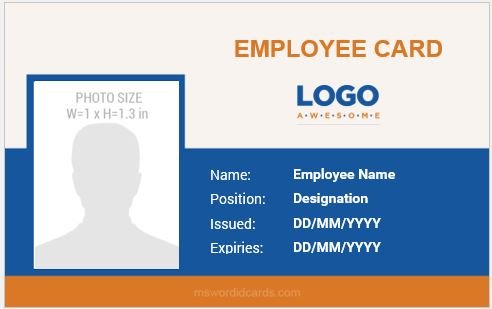 Dimension: 3.38″ x 2.13″
Size: 89 KB
[Personal Use Only]
#4
An unusual and popular color scheme for the identity card. We expect this combination to become popular in 2022 and afterward. If you think you should choose this card for your employees then you are inside of a change.
You can simply go for it and give your employees feelings of being unique in looking professional and smart on the seat. Print employee name, designation, and other employment details to own this card. Don't forget to give us a share if you choose this card for 2022.
Dimension: 3.38″ x 2.13″
Size: 128 KB
[Personal Use Only]
#5
Last on the list and having solid colors will make you think twice to scroll back to the list. The card is provided in DARK and LIGHT shades. You can pick the one as per your taste of colors. The card has the place to put the information about the employee and the company. The company logo along with a photograph of size 1.2″ X 1.5″ can be pasted. Don't forget to add barcode details for official use.
Dimension: 3.38″ x 2.13″
Size: 309 KB
[Personal Use Only]