Identity Card Templates
Here are the first five best employee identity card templates for 2021. These professional design id cards have a unique color scheme and layout that makes it visible from a distance. The id card ranges from decent office wearing to glamorous touch for everyone. Both male and female staff can look for various colors depending upon their choices.
As our design templates are always user-friendly that means it takes very little effort to download and customize them with ease. One of the unique features of these cards is it can be edit using Microsoft Word software. Let's see all of the cards in detail.
#1
First one of the five best identity cards looks feminine. The choice of colors makes it useful for the female staff in the office. If not female it depends on the employer choice if he/she opts for this color scheme for their employees. In another case, a business nature may also require wearing their employees' identity card with this color scheme. Further, you can edit all the details given on the card.
Dimension: 3.38″ x 2.13″
[For Word: (.docx) File: Personal Use Only] [Size: 101.0 KB]
---
#2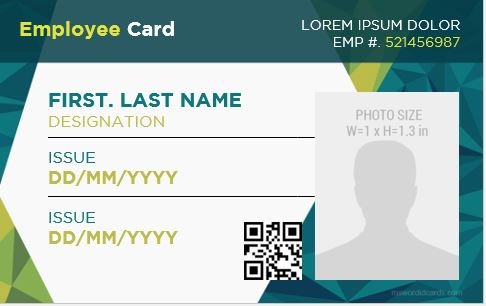 Second, on the list has some unusual scheme of colors. The card has professional look that will inspire you to opt for this card. A perfect combination of layout and format makes it demanding for small businesses. You can edit all the text, photograph and security barcode with your personal information.
Dimension: 3.38″ x 2.13″
[For Word: (.docx) File: Personal Use Only] [Size: 216.0 KB]
---
#3
Third, a simple but comprehensive looking identity card. The color scheme is a little bit inclined towards the use of courier service companies but other offices can choose this card for the use of their employees. The card has a standard size and a photograph of size 0.9″ x 1″ can be pasted with ease. Edit employee name, the card issue & expiry dates, business logo, and address at the specified place.
Dimension: 3.38″ x 2.13″
[For Word: (.docx) File: Personal Use Only] [Size: 135.0 KB]
---
#4
The fourth one has a decent look with simple details mentioned on it. Employee name, designation and photograph take most part of the card. However, you can still add issue & expiry dates along with barcode details of the company. This card is a perfect choice for many managers as it looks professional with the necessary details about the employee and the company.
Dimension: 3.38″ x 2.13″
[For Word: (.docx) File: Personal Use Only] [Size: 269.0 KB]
---
#5
Last on the list but excellent design identity card for employees. This card is a gift for the company owners to choose for their employees to look professional with grace. The card like all the previous ones has MS Word format to download and edit. It will take only 5 minutes to personalize the card & print. Use good hard paper to print the card on and use lamination to avoid wears and tears.
Dimension: 3.38″ x 2.13″
[For Word: (.docx) File: Personal Use Only] [Size: 331.0 KB]
---