An ID card is the biggest source of identification for labor. Just like other employees, labors also get benefits from the company where they work. In order to avail different offers and facilities that are especially given to labors, the labor is required to prove his identity.  For this purpose, labor ID card is very essential.
When you travel from one place to another, sometimes it becomes necessary for you to identify yourself so that people can know which region and profession you belong to. The labors who go to other countries for doing labor work also use the labor ID card for their identification.
What is labor ID card?
A labor ID card is a credit card size document which includes the details about the labor that is necessary to identify him. These cards are usually the main part of the labor's uniform.
Benefits of labor ID cards:
Key benefits of these cards are:
These cards are used by immigration authorities to check your identity. Their purpose to check is to know if you are a legitimate person.
The ID cards also play a very critical role when someone uses them to prove that they are working as legal labor.
The amount of tax which is required to be collected from the labor can also be determined if a unique ID card is issued to each labor.
These cards are not only useful for the authorities but also for labors. These cards help the labor get some legal rights while working as labor for any project.
The labor can also manage to work at the fair working rates when he is able to prove that he is a professional and legal worker.
Templates:
The labor ID cards have a specific design and a layout. The details should be added in these cards in such a way that the design and the style of these cards don't get disturbed. In order to get a professional design, you can get an online template that will save you time and money.
#1
Dimension: 3.38″ x 2.13″
Size: 151 KB
Download
---
#2
Dimension: 3.38″ x 2.13″
Size: 151 KB
Download
---
#3
Dimension: 3.38″ x 2.13″
Size: 115 KB
Download
---
#4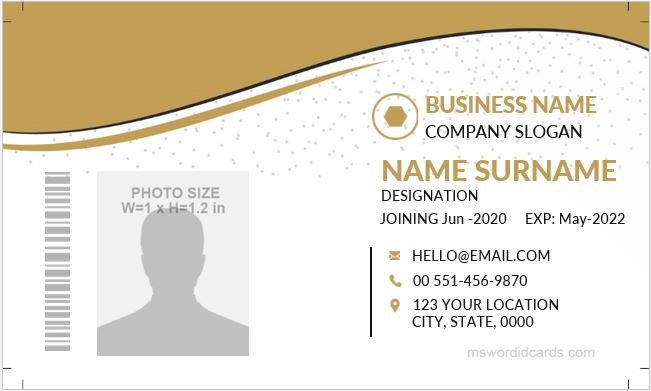 Dimension: 3.38″ x 2.13″
Size: 148 KB
Download
---
#5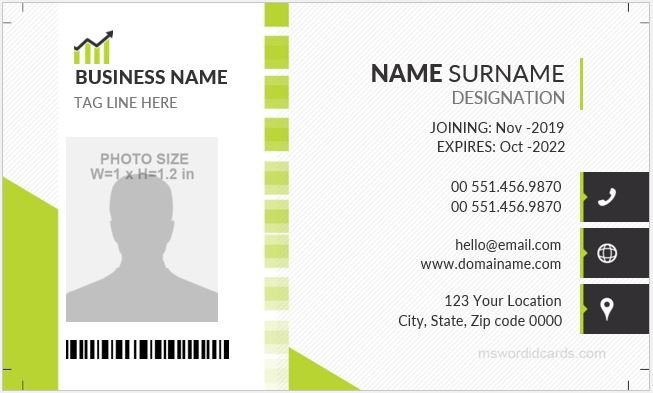 Dimension: 3.38″ x 2.13″
Size: 215 KB
---
#6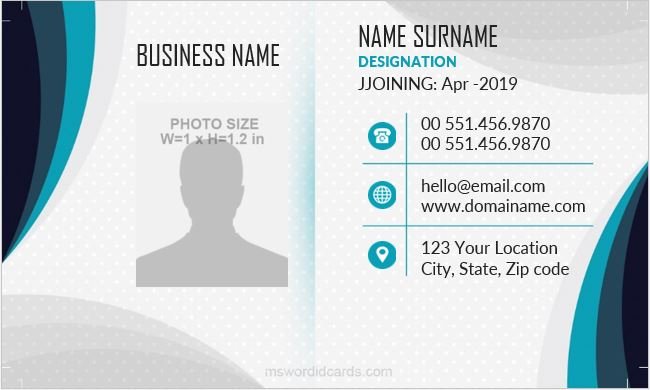 Dimension: 3.38″ x 2.13″
Size: 301 KB
Download
---
#7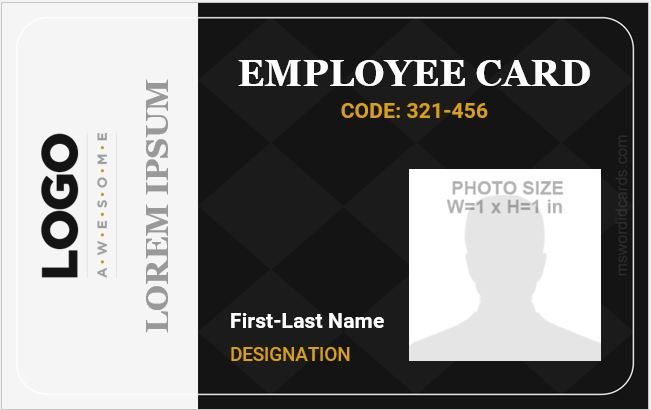 Dimension: 3.38″ x 2.13″
Size: 107 KB
Download
---
#8
Dimension: 3.38″ x 2.13″
Size: 434 KB
Download
---
#9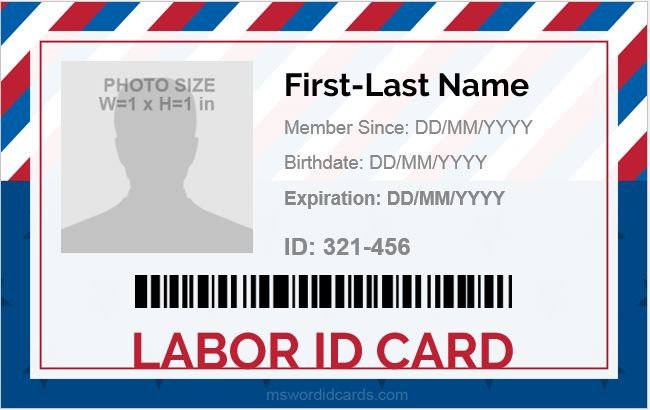 Dimension: 3.38″ x 2.13″
Size: 174 KB
Download
---
#10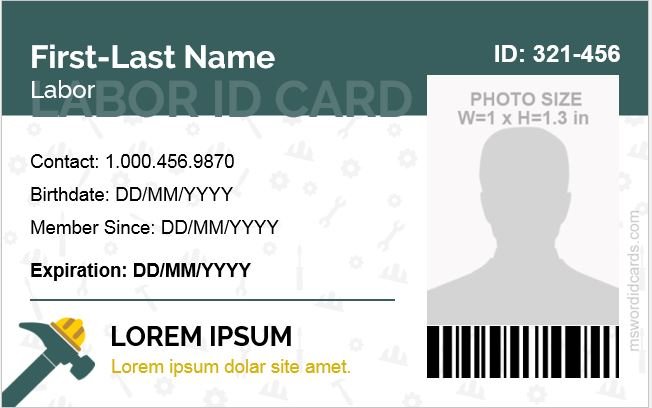 Dimension: 3.38″ x 2.13″
Size: 144 KB
Download
---
#11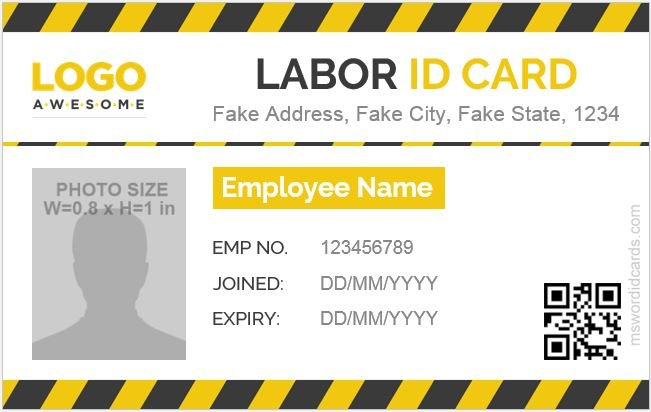 Dimension: 3.38″ x 2.13″
Size: 126 KB
Download
---
#12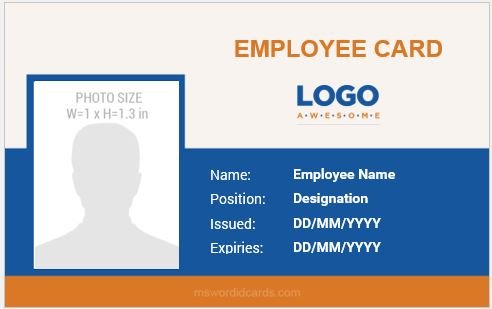 Dimension: 3.38″ x 2.13″
Size: 58 KB
Download
---
#13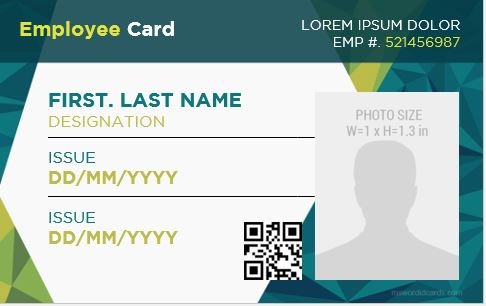 Dimension: 3.38″ x 2.13″
Size: 202 KB
Download
---
#14
Dimension: 3.38″ x 2.13″
Size: 152 KB
Download
---
#15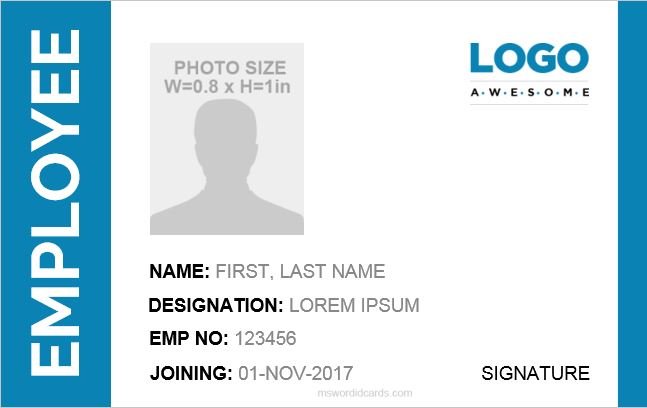 Dimension: 3.38″ x 2.13″
Size: 44 KB
Download