The Foundation of the health care system of a country is based on the hard work of its employees who work tirelessly to provide exceptional care to every person regardless of their social and economic status. In the recent times of a pandemic, healthcare workers worked day and night to cope with the influx of increasing patients and keep them safe from the effects of a harmful virus.
Doctors and nursing staff forms the backbone of the entire health care system which would lose functioning if any one of the entities does not work properly.
While doctors provide treatments and cure ailments, nursing staff provide the best care to the patients and assist them in gaining their maximum potential. They take care of medicines and monitor overall health to notice any irregularity and notify doctors about situations. The ability of nursing staff to notice odds and act immediately.
The nursing staff is provided with ID badges from their respective hospitals. All the employees of the hospital are provided with ID badges to assist patients and other employees in the recognition process. These badges are provided to the permanent staff thus, it also helps in distinguishing temporary staff members.
Moreover, these ID badges can also be used by the employees for their attendance and other related tasks. ID badges of nursing staff help them in maintaining decorum.
Contents
Contents of ID badges are simple and provide introductory information about the holder. The information on an ID badge may vary from organization to organization but it usually includes the following points,
Name of employees
Designation of employee
Profile picture
Name of Hospital
Logo of Hospital
Address
Contact Information
Above mentioned points are usually found on all ID badges regardless of their workplace because the basic purpose of ID badges is to provide introductory information.
Design
Designs of ID badges are simple and can be designed by any employee of the hospital. These ID badges can also be customized based on the requirements of hospital administration.
Designers can be hired for designing specific designs which cannot be copied by any other organization. Some of the points that should be considered while designing are given below,
Use a solid background.
Avoid the use of funky colours.
Keep the information minimal.
Keep badges basic.
Use appropriate font size and style.
Use a clear picture of employee.
Perform a spell check before final approval.
Keep the design formal so that it is taken seriously.
Templates
Templates of ID badges for nursing staff are available on this website. These templates are free of cost and can be used easily after they are downloaded and required information is filled in designated boxes.
These templates are accessible for everyone thus they can be very common among the population.
Specific templates are also available on the internet which can only be used after their charges are paid. Template providers charge a specific for the use of every template and unlock it for the user who pays the price. These templates are not used by many people therefore they are not common.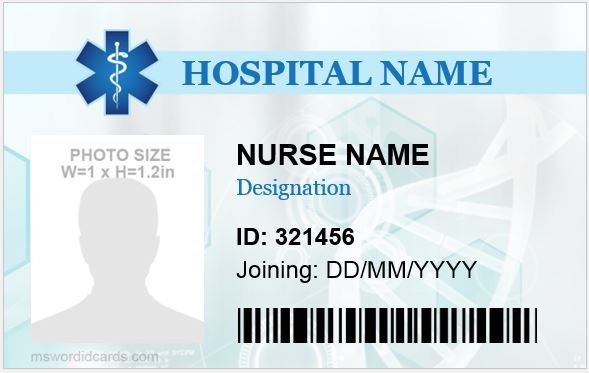 Dimension: 3.38″ x 2.13″
Size: 487 KB
[Personal use only]