A physical therapist is a doctor of physiotherapy or commonly known as a DPT works typically in a hospital, outpatient clinic, sports complexes, private clinics, fitness centers, gymnasiums, and rehabilitation centers.
A physical therapist examines the problem and tries his best to reduce and eventually end the problem through appropriate movements, exercise, hands-on care, and a little medication.
The primary focus of a physical therapist is rehabilitation or cure through exercise and particular bodily movements.
A physical therapist will diagnose the indicated problem, examine it through the proper channels, and prescribe appropriate health conditions. From health conditions, he will further work on the patient to completely rehabilitate.
#1
Dimension: 3.38″ x 2.13″
Size: 3MB
[Personal use only]
A physical therapist must wear his/her ID badge irrespective of which workplace he/she is visiting. An Id badge is one of the most important things to hang with your workplace costume. It gives you several benefits.
One of the most beneficial advantages of wearing the ID badge is professional outlook. An employee with an ID badge looks more formal and professional than the one without a badge. An extra air of professionalism is put into the look when the badge has the logo of the workplace, name, and position of the therapist.
#2
Dimension: 3.38″ x 2.13″
Size: 3MB
[Personal use only]
Effective Relationship with the Client or Patient:
The person visiting the therapist, either patient or a client to get his/her fitness goals accomplished will develop a straightforward, formal, and effective relationship with the physical therapist when there is an ID badge displayed.
Workplace Culture and Efficiency:
Displaying ID badges shall also display and showcase the culture and efficiency of the workplace. Whether it is a hospital, gymnasium, sports complex, or a private clinic, wearing and displaying ID badges shall elevate the efficiency and culture of the workplace.
#3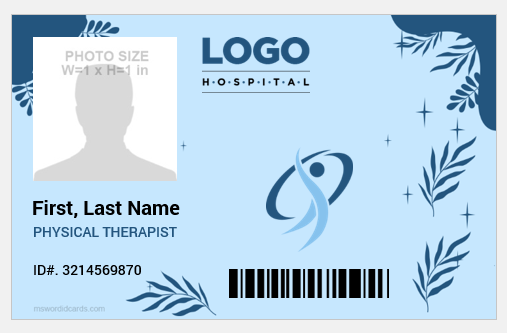 Dimension: 3.38″ x 2.13″
Size: 3MB
[Personal use only]
Displaying ID badges for physical therapists gives individuality and a distinctive look. Making identification easier, the individuality of the worker does not lose.
Security and Employee Identification
As an employee can be identified by the ID badge, no security examination can be needed. The workplaces with a high workforce often deal with this issue of examining the entrees. This muddles the check-in of visitors with the employees. Wearing an ID badge gives employment identification and hence reduces the rush of security checks.
#4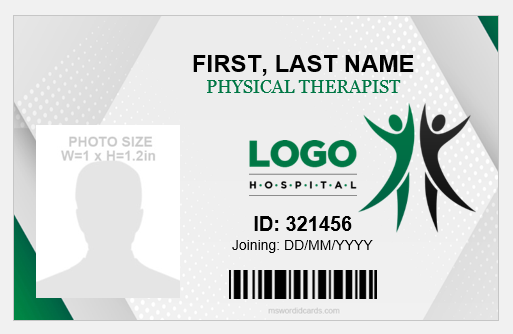 Dimension: 3.38″ x 2.13″
Size: 3MB
[Personal use only]
There are many other benefits of wearing ID badges that include employee confidence, effective professional relations with the patients and clients, and effective naming and branding of the hospital along with a proactive look of the therapist.
An ID badge of a physical therapist must include full name, ID number, registration number, designation, and department on the display side which is mandatory. On the back of the card, contact information, address, and national identity number can be mentioned which is optional.
#5
Dimension: 3.38″ x 2.13″
Size: 3MB
[Personal use only]
An ID badge for a physical therapist can be readily made with the help of available templates. A large variety of Physical therapist ID badges with diverse designs are available on our website that can be downloaded and used for employment identification. More templates are available that can be customized according to one's requirements.