Your office is a place where you spend most of the time. Therefore, it is important for you to keep your office secure. One of the common strategies to keep the workplace secure is to use the id badges for identification purpose.
Every staff member of the workplace is given an Id card for quick identification. Apart from identification, in many organizations, the id badge is used to control the access of the people. Receptionist is another important person in a workplace.
The receptionist works in the waiting area or the lobby of the company. The main job of the receptionist is to welcome the visitors and answering the phone calls of the people. The receptionist also bears an ID badge that lets the other people recognize the person working on the post of a receptionist.
What is receptionist Id badge?
The receptionist ID badge is for those receptionists who want to be identified by their job post. They actually communicate the brand image of the company by wearing the Id badge that includes the logo of the company and also welcome the guests appropriately.
Importance of receptionist id badge
It is crucial for an organization to give the ID badge to the person working as a receptionist. The reception area is the most important area of the company where the safety of the employee as well as the privacy of the customers should be given proper security. In order to avoid any major type of security breach, the receptionist ID badges are used.
The lobby where the receptionist sits is a crucial part of an organization. The use of id badge is the main part of the visitor's policy in many places. The distinction between the receptionist and other staff members is also made through the use of receptionist ID badge.
Receptionist ID badge template:
The ID badge template in a size of standard ID badge can be downloaded and printed on the special paper made to be used for ID badges. This template provides a complete format of the ID badge that makes it easier for the user to use this template.
#1
Dimension: 3.38″ x 2.13″
[For Word: (.docx) File: Personal Use Only] [Size: 144.0 KB]
---
#2
Dimension: 3.38″ x 2.13″
[For Word: (.docx) File: Personal Use Only] [Size: 278.0 KB]
---
#3
Dimension: 3.38″ x 2.13″
[For Word: (.docx) File: Personal Use Only] [Size: 405.0 KB]
---
#4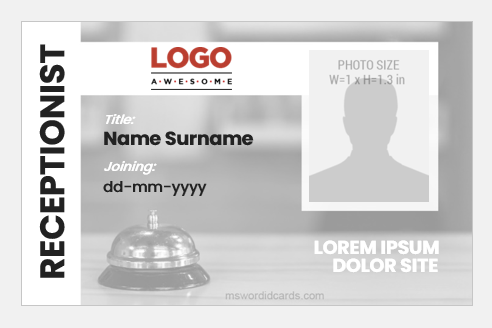 Dimension: 3.38″ x 2.13″
[For Word: (.docx) File: Personal Use Only] [Size: 186.0 KB]
---
#5
Dimension: 3.38″ x 2.13″
[For Word: (.docx) File: Personal Use Only] [Size: 160.0 KB]
---