Identity is very important in life. In recent years, identification has gained popularity due to security and safety issues. ID cards have become a necessity wherever we go. Be it traveling abroad or even at work, photo ID cards have become mandatory.
Most of the offices and companies require the staff to wear photo ID cards at all times. Although most of the employees find it annoying to wear ID cards, even then it has been considered as more than an accessory.
Carrying a photo ID card will make your life much easier as it will help you to be identified at different places and you will be given access to various data and information. Photo ID cards will make it easy to recognize the legit employees and minimize the access of strangers to the work premises. A photo ID card is hard to replicate, thus making it a high-security tool.
#1
A perfect design staff id card for small- & large-scale businesses. The card looks very simple but it contains all the necessary information about an employee. You can edit all the information yourself without requiring any specialist to do it. Go and try!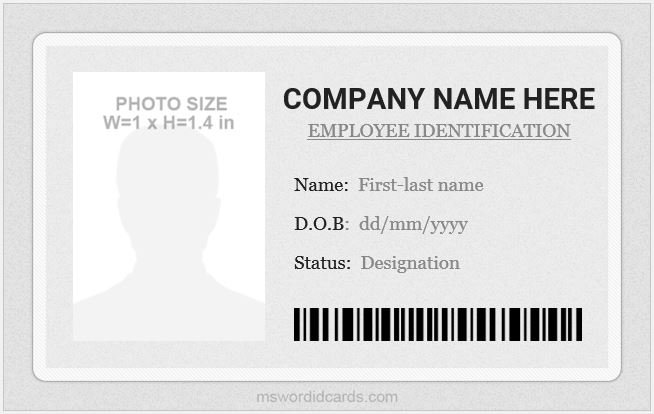 Dimension: 3.38″ x 2.13″
Size: 654 KB
[Personal use only]
2-
The card with more graphics. Yes! sometimes it feels good to have graphics in the layout to look more professional. Many people have written to us to prepare cards having more graphics. If you are one who likes graphics then this card is a perfect choice for you. Otherwise, you can still use this card without graphics. Download and edit the card to remove those graphics and rewrite the text information with your employee's official information.
Dimension: 3.38″ x 2.13″
Size: 154 KB
[Personal use only]
3-
A card with an office background makes it the choice of many executives. We choose red on the demand of the people as previously we had blue on the strips. Still, if you like and want to pick this id card for your employees you can edit the color scheme. Don't forget you can make changes to the font size and style of the text.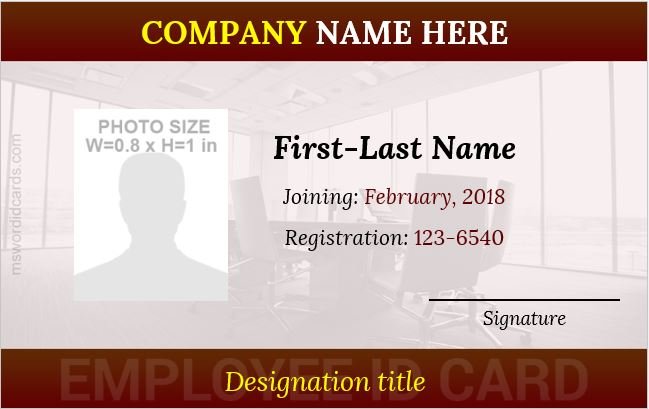 Dimension: 3.38″ x 2.13″
Size: 332 KB
[Personal use only]
4-
The trend is changing as many companies are opting for the use of vertical design id cards for their staff. We receive many requests to design vertical shape cards every other day. The following card is a perfect choice if you like vertical designs too. The card has a place to input all the important information along with a photograph of size 1″ x 1.2″.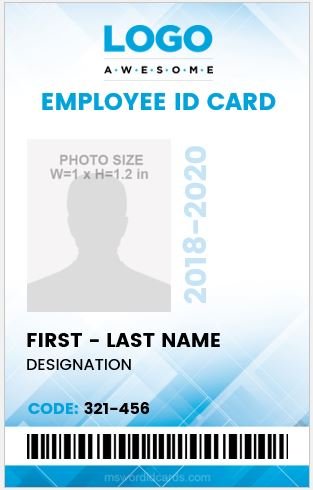 Dimension: 2.13″ x 3.38″
Size: 238 KB
[Personal use only]
5-
Another vertical design id card with a simple color scheme. It doesn't have those glamorous colors if you think you were in these thoughts. One of the reasons for not using those glamorous colors is the printing cost of the cards. The sharp colors cost more on printing than the simple ones. Did you know that before?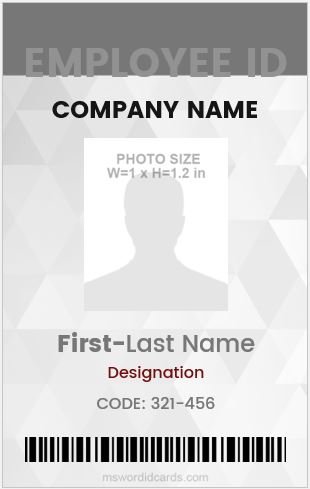 Dimension: 3.38″ x 2.13″
Size: 175 KB
[Personal use only]