The progress of a business or company depends on the efforts of their employees who work tirelessly to contribute towards the success of the business. Higher authorities of the business hire highly qualified, experienced professionals to get the job done.
Many multinational companies are run by hundreds of employees to make them function smoothly. These employees have different designations as per their job description and are identified by these designations. Their salaries, luxuries, bonuses, and other benefits are also dependent on their designations, which is achieved gradually over a long period of time.
Within the hierarchy of employees, administrators are the higher authority that administers other employees and keeps a check on them for completing their required work. They manage all employees through managers and other staff. Administrators are allowed to take action immediately if they feel the need. Their actions cannot be challenged by other employees.
ID cards are crucial accessories for employees as decided by higher authorities. ID cards are used for identification purposes and provide information about the cardholder in a professional capacity. These cards carry basic details about the concerned employee. Identification cards are used by every business, company, institute, and other place to assist in identifying an employee.
Contents
Contents of ID cards are similar regardless of their place of issuance. Some details may vary from business to business, but it generally provides the following information,
Name of employee
Picture of employee
Designation at company
Official contact information
Name of company
Logo of company
Postal address
Contact information
Date of issuance
Date of expiry
Contents of cards are generally decided by the higher administration and are not changed for years, and new employees also wear the same cards with their own information.
Designs of the card
Designs of ID cards are very simple and are used to serve the purpose of identification only. Cards from any workplace are designed in a manner that the presence of required information does not crowd it and make it look awful.
Many employers hire graphic designers to customize identification cards for their employees that stand out among other employees. These are not only used for identification but also branding of their company or business.
A few points that should be considered while designing ID cards are given below,
Use readable font size and style for convenience.
Keep the information minimal to give a nice look.
Use clear picture of employee.
Do not give watermark as it will take a lot of space.
Use a solid colour background.
Spell check before finalising.
At many workplaces, these cards are either designed through templates or downloaded from the internet as they are free of cost.
Significance of using cards at workplace
Identification cards are necessary at any workplace because of the purposes that they can be used for. Some of their uses are given below,
At many workplaces, identification cards are digitally enabled to be used as a key to an office or the vault.
It represents not only employees but also their company at an event.
It makes the process of identifying name and designation of an employee easier.
Sample Templates
#1
Dimension: 3.38″ x 2.13″
Size: 3MB
#2
Dimension: 3.38″ x 2.13″
Size: 3MB
#3
Dimension: 3.38″ x 2.13″
Size: 3MB
#4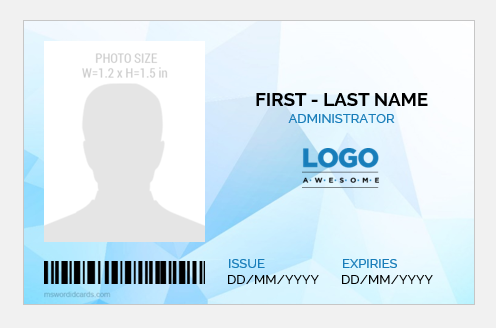 Dimension: 3.38″ x 2.13″
Size: 3MB
#5
Dimension: 3.38″ x 2.13″
Size: 3MB